In what appears to be the first use of generative AI directly within a legal CRM product, the cloud-based CRM platform Lawmatics is today launching a feature that allows lawyers to use AI to create and edit client emails and email marketing campaigns.
Called LM[AI], the feature is powered by the latest commercial version of ChatGPT, which Lawmatics has further customized and built out to include capabilities specific to its platform.
Lawmatics founder and CEO Matt Spiegel said that the company launched this feature to help lawyers create better content for marketing campaigns and other types of emails they send to clients.
While the Lawmatics platform gives lawyers the tools to create all sorts of email campaigns, he said, lawyers are sometimes stymied by what to write because they are not trained in creating marketing content.
"The problem is that a lot of lawyers just don't know what to write," Spiegel said. "So now we take the guesswork out of it and give them the ability to create beautiful content or just create inspiration for content that they can mold however they want."
'Help Me Write'
Now, when a Lawmatics user goes to create an email, the user will see a button labeled "Help Me Write." Select it, and the user is prompted to describe who the email is for and what it should cover. The user then clicks "Generate," and LM[AI] will generate the text.
Once the text is generated, the user can further refine it by selecting any portion and clicking the Help Me Write button again. This gives the user four options for revising the text:
Rephrase.
Revise to make friendlier.
Revise to make more formal.
Correct grammar and spelling.
The feature can also be used to revise an email that the user has drafted. The user would write the email, then select all or any portion to make it friendlier or more formal, or to check its grammar and spelling.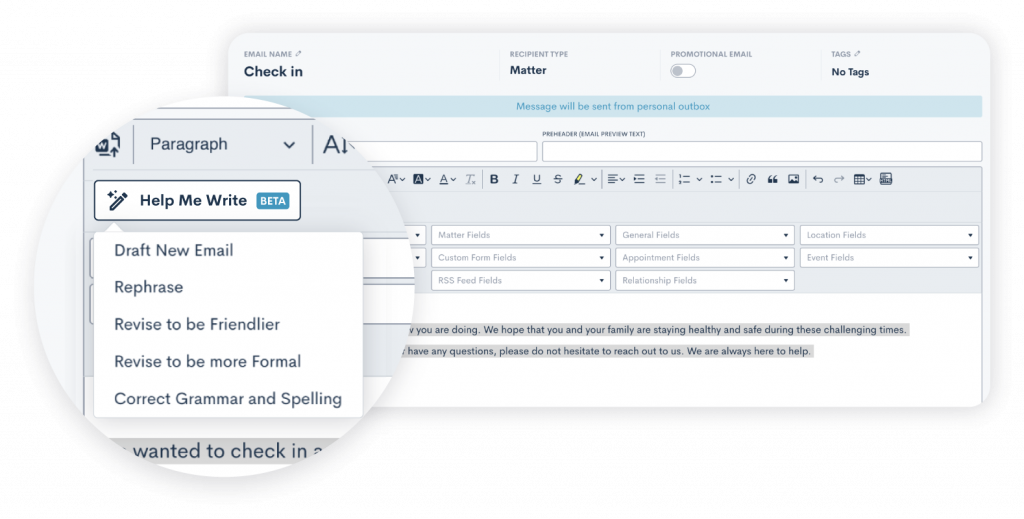 Part of the customization Lawmatics has built into the feature is understanding of Lawmatics' dynamic fields structure. Without prompting, LM[AI] will insert the correct dynamic fields format for inserting client names and other data into an email. This enables firms to use the feature to create email templates for marketing and other purposes.
Spiegel showed me an example in which he asked LM[AI] to create an email thanking a client for using the firm and reminding them to send referrals in the future. With that prompt, it generated:
Dear |client|,

We would like to take this opportunity to thank you for choosing |firm-name| for your legal matters. We value your trust and confidence in our services, and we are committed to providing you with exceptional legal representation. 

If you have any legal needs in the future, please do not hesitate to contact us. We would be honored to continue to serve you and your referrals. 

Thank you again for choosing |firm-name|. We look forward to hearing from you soon. 

Best regards,

|firm-name|
As you can see, LM[AI] inserted the appropriate merge fields on its own. With a couple clicks, the user could make the email friendlier or more formal, and revise it entirely.
LM[AI] is available to all Lawmatics subscribers at the Pro tier and above.