Planning on visiting Chiang Mai between February and April? You may want to think twice. The city is known for its burning season at this time of year, which typically lasts for about two months.
The burning season is when farmers slash and burn large areas of land to clear it for agricultural purposes.
Ready To Travel? Don't Go Without Travel Insurance.
I recommend SafetyWing Nomad Insurance, an affordable travel insurance offering automatic monthly payments that you can cancel anytime. I've been using it since 2019, and I can assure you it's the perfect solution for nomads like you and me. Learn more by reading our SafetyWing review.
You may have heard different terms: Smokey Season, Burning Season, and even Hazy Days. Whatever you call it, this time of year isn't the most pleasant to visit Chiang Mai as smoke can affect your health.
In this guide, we'll explore what it's like, what to expect, and what you can do to remain healthy. Without further ado, let's talk about the burning season in Chiang Mai.
What Is The Burning Season In Chiang Mai?
The burning season is an agricultural practice that takes place in Chiang Mai and many other parts of Thailand between February and April.
While it impacts people in Thailand, these practices are also done in neighboring countries, such as Laos and Myanmar.
During this time, farmers set fire to large patches of land to clear it for agricultural purposes such as growing rice, corn, and other food crops.
This allows farmers to easily prepare the land for planting and harvesting in a short amount of time.
Unfortunately, this practice creates significant air pollution and smoke.
Now, these burning practices aren't limited to lands. In fact, several intentional forest fires contribute to air pollution too.
---
Planning your upcoming adventures? Travel by bus! (It's cheap!)
---
Finally, it's the hot season during this time which can contribute to the smog in and around Chiang Mai.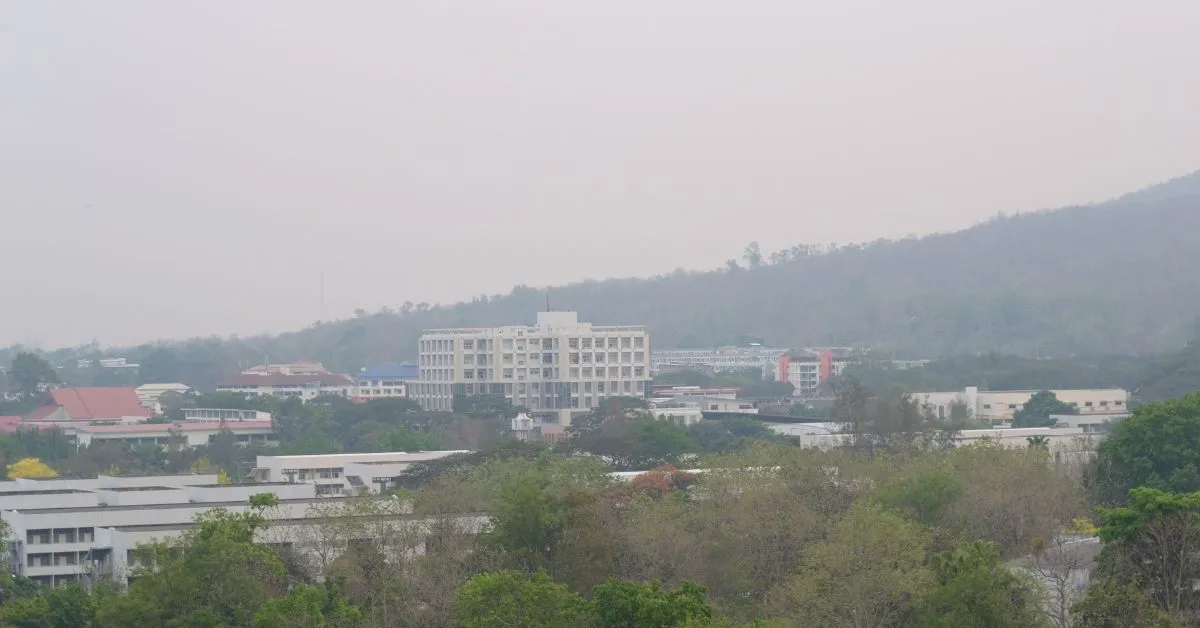 When Is The Burning Season In Chiang Mai?
The burning season in Chiang Mai typically takes place between February and April. It can start as early as January and end in May, depending on the weather, wind patterns and other factors.
Typically, the smoke is the most concentrated during mid-March to late April (although it can sometimes begin to dissipate as early as mid-April).
Every year is completely different, and it's difficult to predict exactly when the smoke will start and end.
What To Expect During The Burning Season?
During this time, air pollution levels are considerably higher than normal. You can expect the air to be very smoky and hazy, especially during the midday hours when there is little wind.
Visibility can be quite low, so you may have difficulty seeing landmarks and other things in the distance, like the mountain. The air can also make your eyes feel dry and itchy.
Smoke also has an impact on your health. You may experience shortness of breath or difficulty breathing, a scratchy throat, headaches, and other respiratory problems.
Now, everyone has a different opinion on the smokey season.
A quick search in one of the Facebook groups for expats in Chiang Mai will reveal a range of views, from people who don't mind it to those who avoid the city at all costs during this time.
How Bad Is The Air During Smokey Season?
The air quality can vary greatly during the burning season, and it's impossible to predict exactly how bad it will be.
You'll have good days and worst days. If it rains, it will clear up the air for a bit, so you could get lucky, but rain at this time of year is unusual.
My Burning Season Experience In 2023
As everyone has a different opinion on the smoke season, my partner and I decided to experience it ourselves. We came to Chiang Mai at the beginning of March 2023.
Upon arrival, we could see the haze and smoke. We struggled a bit on the first couple of days, but then the sky cleared up, and it really wasn't that bad until the end of March.
We experienced days when air pollution was considered "Very Unhealthy" and "Hazardous".
As it's our first time in Chiang Mai at this time of year, it's hard to know how long it will last. So, we thought about leaving for a week, but ultimately, we decided to stay.
However, we decided that in the upcoming years, we'll spend our time somewhere else in March and April. Looking at you, Koh Lanta!
Should You Stay In Chiang Mai, Or Should You Leave?
The burning season in Chiang Mai is a personal preference. Some people don't mind it, and some people can't stand it.
If you're the type of person who doesn't mind a bit of air pollution and smoke, then you should be fine. Just take precautions, like wearing a mask when needed and avoiding sports during the day.
However, if you're sensitive to air pollution and smoke, you may want to consider going somewhere else during the smokey season.
Ultimately, the decision is yours.
Many people head south during the smoke season. It's a great time of year to go to Phuket, Koh Lanta, Koh Samui, Koh Tao, or Koh Phangan.
Health Tips
Before we get into all the tips to remain healthy during the burning season, let's talk about AQI.
Air Quality Index (AQI) measures the air quality in an area. It gives you information so that you can know how clean or polluted the air is.
To find reliable information about air pollution in Chiang Mai, I use the AirVisual IQAir app. The index ranges from 0 to 500 and provides information for each level.
0-50 Good
51-100 Moderate
101-150 Unhealthy for sensitive groups
151-200 Unhealthy
201-300 Very unhealthy
301-500 Hazardous
When the AQI reaches a very unhealthy level, the general public will be affected by the smoke. It's recommended to stay indoors and avoid sports.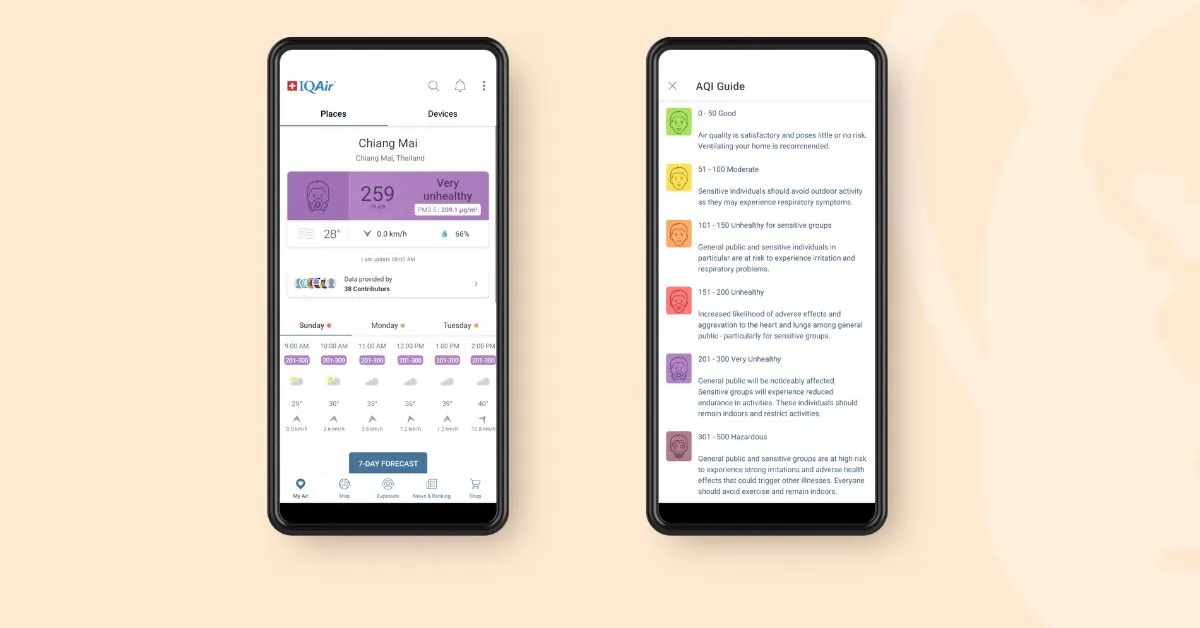 What else can you do to limit your exposure to poor air quality?
Wear a mask outdoors and make sure it's the right one for air pollution (it should protect you against PM2.5 pollutants)
Avoid outdoor exercise
Close your windows
Run an air purifier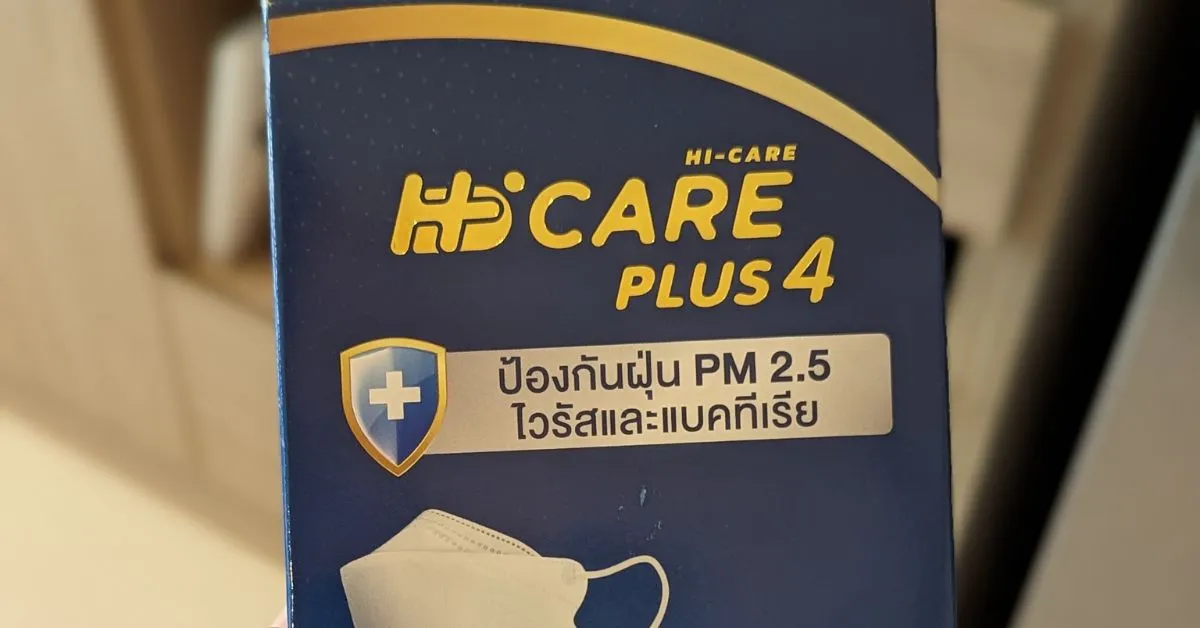 Now, it's important to know that air purifiers get out of stock quickly. I recommend you purchase one before it gets really bad. You can order one online on websites like Lazada, or buy one at Central Festival.
We bought one when we arrived, and we got a second one when the air reached a Hazardous level.
There are several air purifier brands. The most popular ones are:
Xiaomi
Electrolux
Levoit
Toshiba
Mitsuta
Philips
Etc.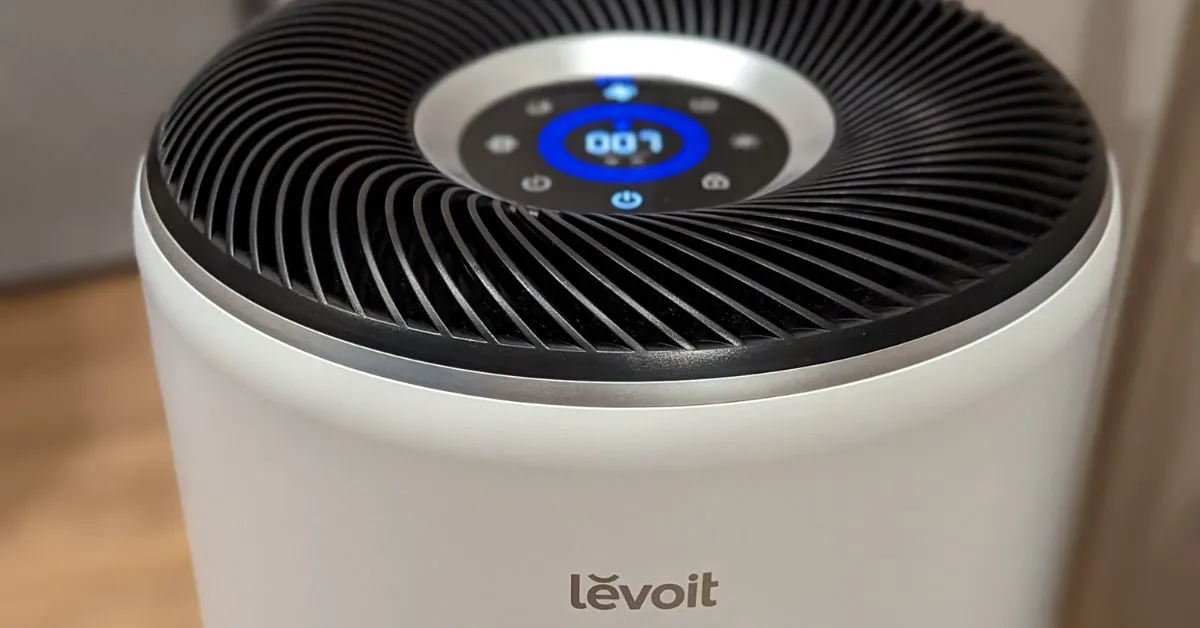 Best Time To Visit Chiang Mai
The burning season lasts from February to April. That being said, the best time to visit Chiang Mai is after April, when the air has cleared up.
From March to June, you'll experience hot weather (it can go up to 40 degrees).
The city is at its best during the cool season, from November to February. This time of year sees lower temperatures, lower humidity, and blue skies.
From July to October, you'll experience the monsoon season. It will rain a lot, so it won't be ideal if you want to spend a lot of time outside. You may experience floods too.
Final Thoughts On Chiang Mai During Burning Season
Chiang Mai is a great place to visit year-round, but it's important to be aware of the burning season.
The best way to stay safe during the burning season is to be informed of air quality and follow the health tips mentioned in this guide.
Ultimately, the decision of whether to stay or leave depends on you. If you're sensitive to air pollution and smoke, then it's a good idea to consider going elsewhere during the smokey season.
We hope this guide has helped you decide if Chiang Mai is right for you during the smoke season.
Visiting Chiang Mai soon? Read one of the following guides: