Are you the kind of traveler who loves to plan ahead and make sure that every detail is in place before embarking on a journey? Well, if so, you're going to love this guide!
We've designed this comprehensive guide for travelers looking to create an unforgettable travel itinerary. We'll give you insider tips and tricks, plus we'll share our own tried-and-tested methods for crafting a fantastic trip itinerary.
Whether it's your first time traveling or your hundredth, planning a trip can be both exciting and daunting.
But don't worry – with our helpful guide, even those pesky details will become second nature!
Let's get started!
What Is A Travel Itinerary?
A travel itinerary is a plan that outlines the places you want to visit while on your trip, along with a timeline of when and where you'll be at each location.
It can also include other details such as transportation, accommodation, activities, and more.
Do You Need A Travel Itinerary?
Depending on your travel style, a travel itinerary can be incredibly helpful.
For those who like to make sure they know what's coming next, an itinerary can help keep you organized while allowing room for spontaneity.
It also makes it easier to budget your trip and ensure you make the most of your time.
Finally, having an itinerary for a trip can be helpful, especially if you have a limited time frame and want to see as much as possible.
So if you're a traveler who likes to plan ahead, an itinerary is a great tool to have on hand.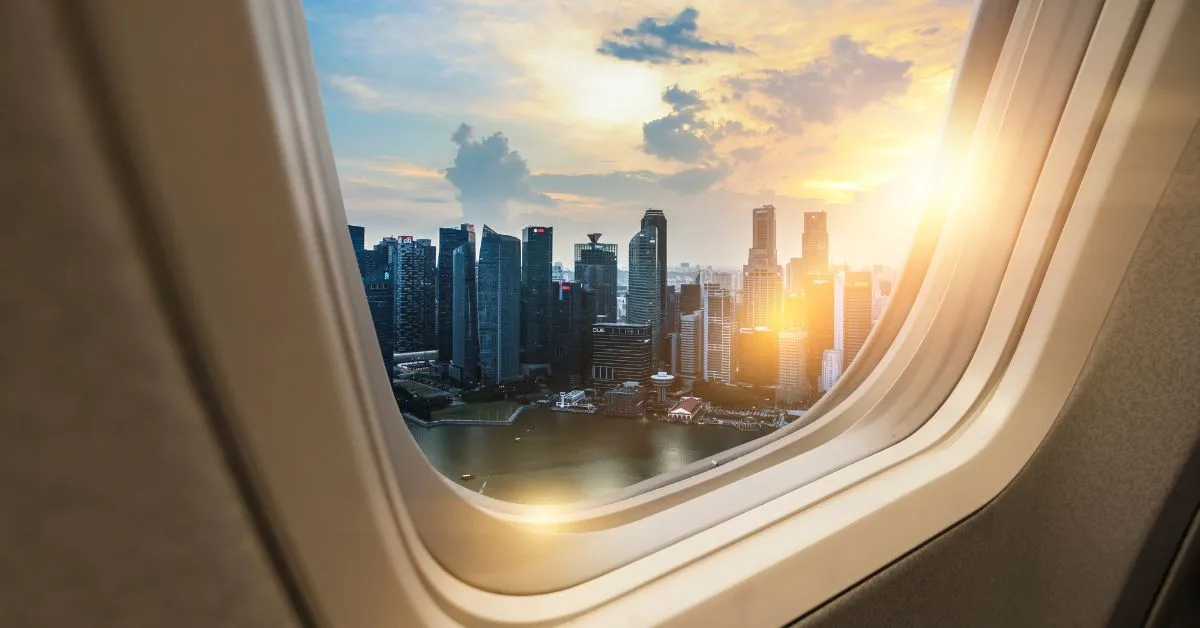 How To Write A Travel Itinerary
There are several ways to create a travel itinerary. Some people drop everything in a Google Doc or a spreadsheet, while others prefer to use a dedicated travel planning app.
Whatever you choose, the most important thing is that it works for you and helps you stay organized.
We've recently come across a new trip planner application called Roaming Duck. In this guide, we'll also show you how to use it to make an itinerary, so keep reading to learn more.
Let's dive right in!
Step 1: Research Your Destination
Before you start putting together your travel itinerary, it's important to do some research on your destination.
For example, you can read our blog posts to learn more about your destination!
Look for the best time to visit before booking flights, and find out if you need a visa.
The idea is to pick a destination that aligns with your travel style and budget.
When researching your destination, you must know what to expect regarding budget, climate, culture, and more.
The better your understanding of the destination you're traveling to, the smoother your journey will be!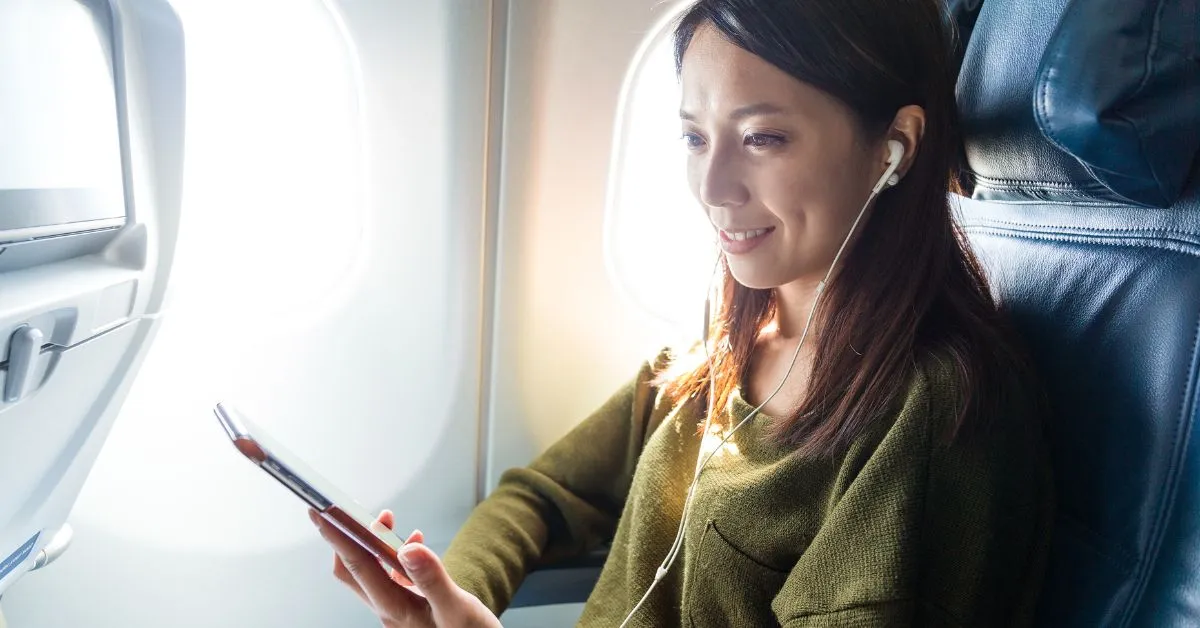 Step 2: Set Up A Budget
Now that you have some basic information about the destination, it's time to set a budget.
Creating a travel budget is crucial for all types of trips, from short weekend getaways to extended backpacking trips.
Think about how much you're willing to spend on flights, accommodation, food, transportation, and activities.
Be sure to factor in any incidentals, such as airport transfers or visas, that may be required.
Once you've set a budget, you can start planning your trip around it.
If you're comfortable with money, you may not need to set up a budget.
However, you can still look at major expenses like flight, hotel, and activity prices to make sure you can afford them.
When setting up your travel budget, it's a good time to think about the travel style you want.
Do you prefer luxury over affordability, or are you open to both?
Are you planning on exploring your destination by renting a car, or will you use public transportation?
Do you want to move fast between places, or do you prefer to relax?
The idea here is to have a travel style that reflects your budget.
Step 3: Decide On Your Travel Dates
Now that you've chosen your destination and done some research, it's time to decide on the dates of your trip.
How long are you planning on traveling? Is there anything to consider, like time difference or jet lag?
This is a key step because it will determine the overall structure of your itinerary.
If you're flexible with dates, you may want to decide by looking at the high seasons and low seasons of the destination and when flights are cheaper.
Don't forget to factor in any national holidays as well – you don't want to miss out on the festivities!
Now, think of a travel pace that fits your travel style. Do you want to move fast or take it slow?
Once you have a general idea, sketch out the number of days you'll spend in each destination.
This will be your basic itinerary timeline, which you can later use to plan out the activities for each day.
If you need extra help with this step, we suggest you make a list of all the places and things you wish to do and see how long it would take to do everything.
Then, keep it realistic by adding a couple of days, and this should give you a rough idea of how long you'll need for your trip.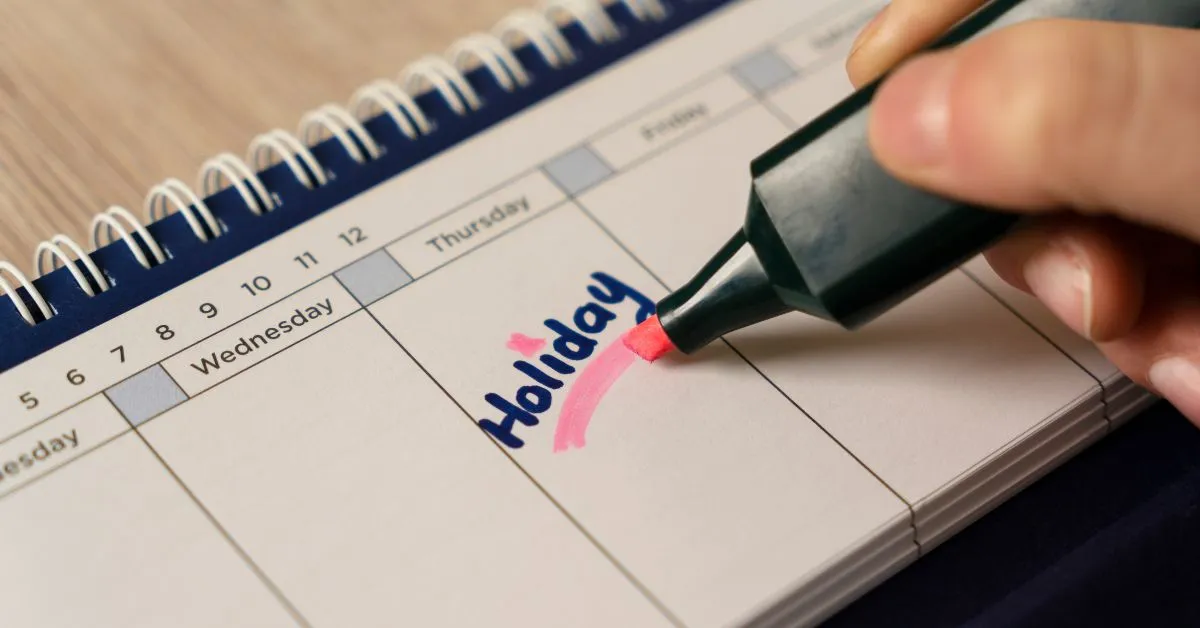 Step 4: Book Your Transportation
Next, you'll need to book your transportation.
Are you flying? Taking a train or a ferry? Driving?
Check flights, trains, ferries, and buses for the best deals. You can use a comparison website to compare the prices and find the best deal available.
Once you've found the right transportation, book it and add it to your itinerary.
Step 5: Make A List Of Destinations, And Things To Do
Now that you have your travel dates and transportation booked, it's time to start planning what to do during your trip.
Make a list of destinations, activities and places you want to visit.
You can use a travel guidebook or search our website for tips.
If you're traveling to one destination, focus on just that area.
If you're planning a road trip, plan the route and the stops along the way.
If you're traveling to multiple cities or countries, make a list of the places you want to visit in each location.
Slim down your list as needed and prioritize what's important to you.
You can always add more activities later if there's time!
When building an itinerary, it's important to look at the map so that the route makes sense.
Make sure you leave enough time to explore each destination and take in the sights. You'll also need to look at the distances between places to keep it realistic.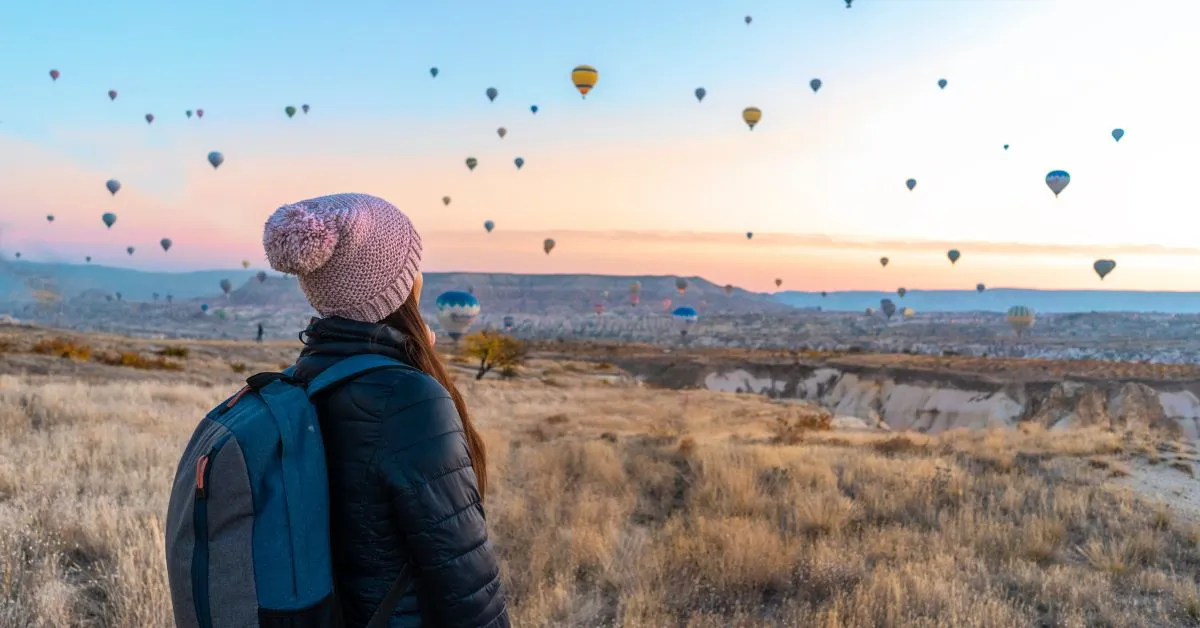 Step 6: Research Transport And Accommodation
Now it's time to start looking for transportation and accommodation. You're not booking anything yet, but the idea is to see if everything is available.
Is there a hotel in the area? Do you need to rent a car or take public transport?
Look at reviews and compare prices. If you're looking for accommodation, check the location of the hotel to make sure it's close enough to the places you want to visit.
When researching transportation, consider how much time you want to spend traveling.
If you're taking a bus, is there an overnight option? If it's a train, how long will it take? This can help you decide whether to fly or take a slower means of transport.
Once you've made your research, it's time to book the transport and accommodation for your trip.
Step 7: Book Transport And Accommodation
Now you're ready to finalize your itinerary by booking transportation and accommodation for your trip.
We usually book transportation first, and then we move on to accommodation, but it also depends on the type of trip you're taking and your destination.
For example, if there's limited accommodation availability, book it first.
Once you've booked everything, make a detailed itinerary with all the important information. You can even save the important places (trains stations, airports, hotels) on your map.
Step 8: Book Activities And Guided Tours
Booking activities and guided tours in advance is a great way to make the most of your trip.
Research different activities you can do in each destination and decide which ones you want to do.
Look at reviews, compare prices, and book the activities in advance if possible.
If there are any guided tours you want to do, make sure to book them early, as they can get sold out quickly.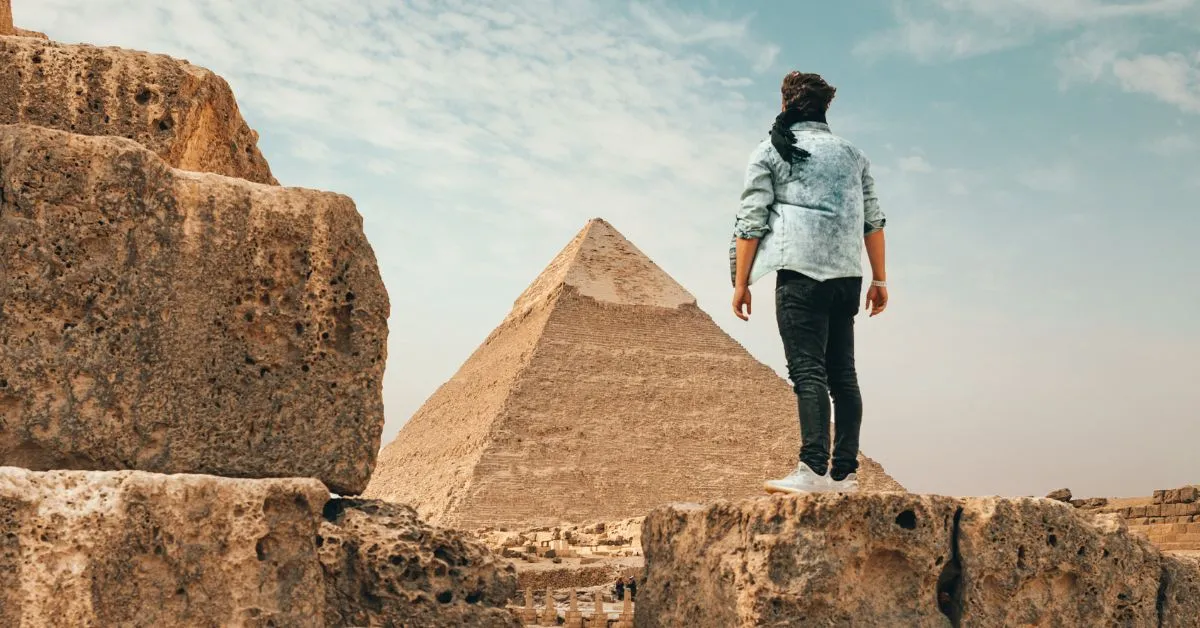 What Does A Travel Itinerary Look Like?
A travel itinerary can look different depending on the type of trip you're taking.
For example, if you're taking a short weekend trip, it might just include the essentials like flights, transport, and accommodation.
If you're taking a longer trip with several destinations, your travel itinerary will be more detailed.
It should include the dates and times of your flights, transport between cities or countries, accommodation, activities you plan to do, and any other important information.
A travel itinerary should be easy to read and understand so that everyone traveling can easily access the information.
Now, let's see an example by creating a travel itinerary with Roaming Duck.
How To Create A Travel Itinerary With Roaming Duck
Creating a travel itinerary with Roaming Duck is easy and intuitive.
What Is Roaming Duck?
Roaming Duck is a free travel planner that you can use to create a trip itinerary. You can map your own itinerary and book activities, flights, and hotels in one place.
The trip dashboard is divided into three main sections:
The Search
The Itinerary Builder
Notes & Chat
Keep reading to learn how to create a travel itinerary with Roaming Duck.

Step 1: Create An Account
To get started, go to Roaming Duck and sign up. Once your account is created, you'll get a welcome email that explains how to get started.
Step 2: Go To The Search Section
Once you're logged into your dashboard, go to the menu bar and click on "My Trips". Then, click on "Create a new trip". You can give it a name.
Then, you'll see a search section. Click on the button "Show" to search for flights, hotels, and activities.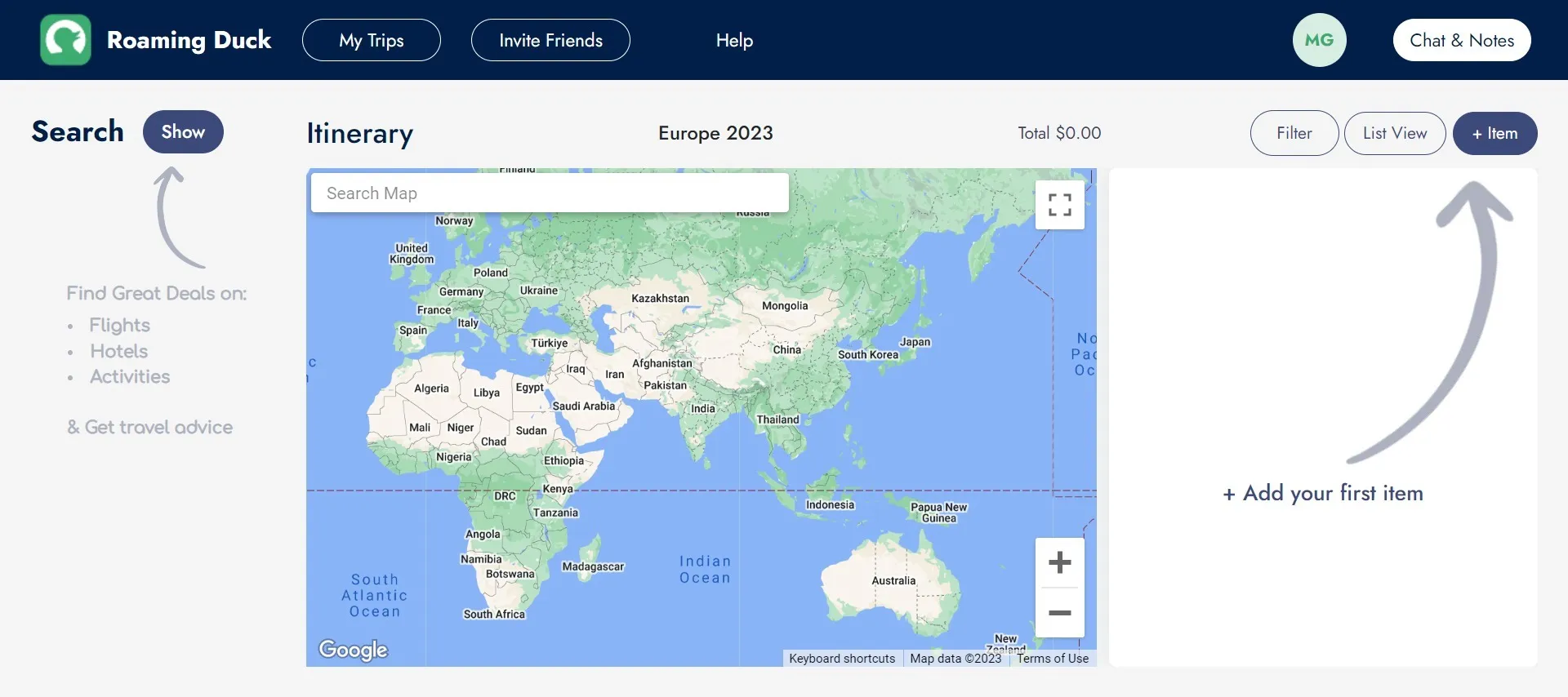 In the search section, you'll get the option to "View & Book" flights, hotels, and activities. When you click on that button, you'll get a prompt asking if you wish to add this item to your itinerary.
Alternatively, you can click on "Add to Itinerary". This is a great option if your itinerary is not set in stone yet.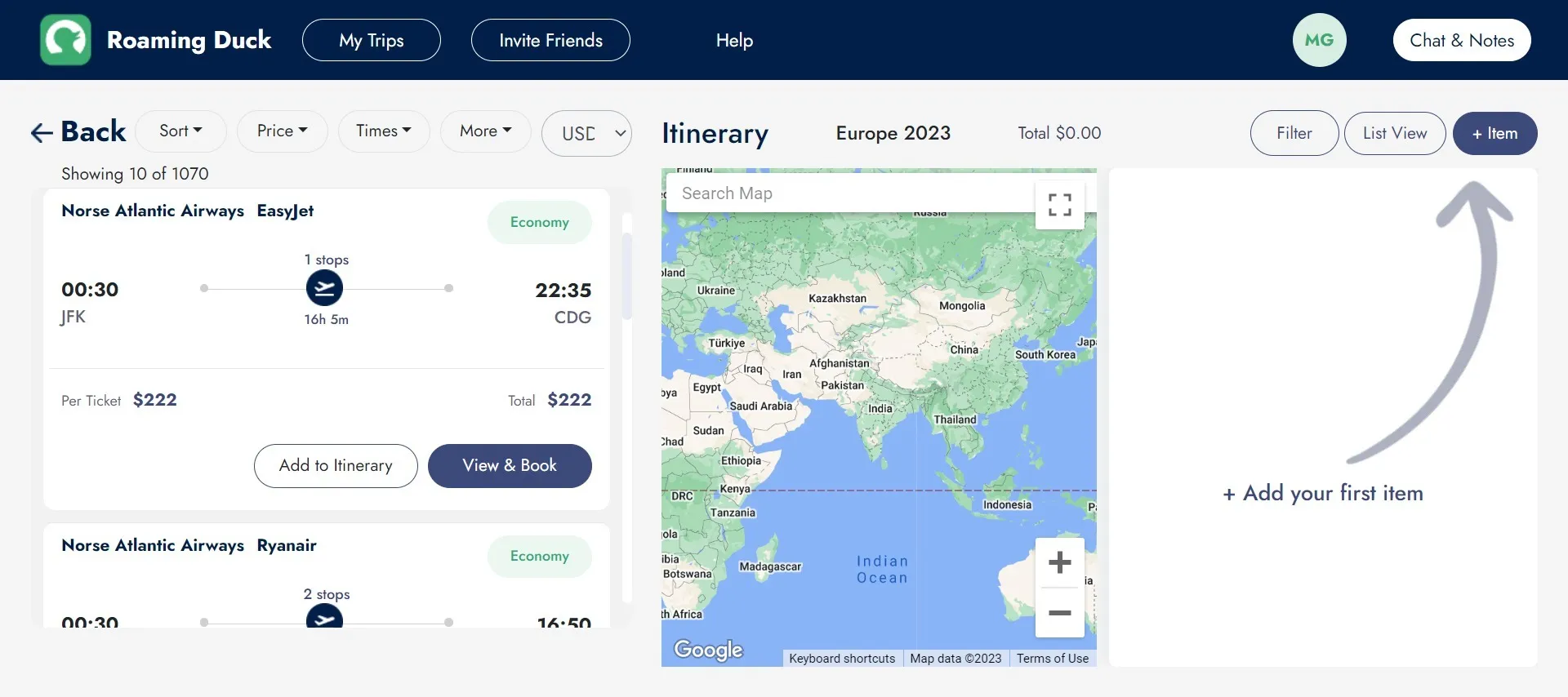 Step 3: Use The Itinerary Builder
In the itinerary builder section, you can add items:
Flights
Lodge
Transport
Activity
Other (You can create your own item with details, cost, and notes)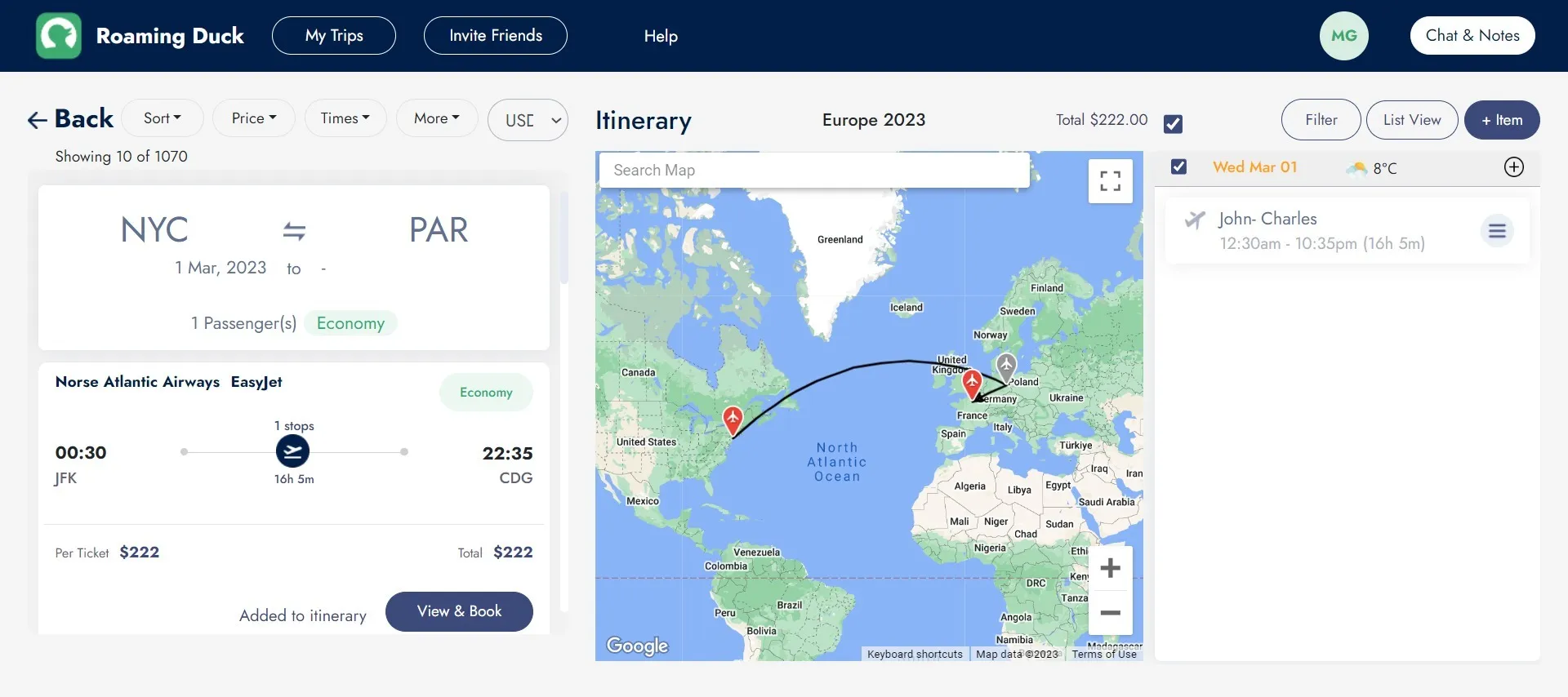 Step 4: Add Notes
There's a section to add notes and create your to-do tasks.
This is quite helpful because creating a travel itinerary is a lot of work, and you don't want to forget anything important.
Step 5: Invite Your Family And Friends
Finally, there's an option to invite your friends and family so that they can see your itinerary and collaborate.
We think this feature is pretty cool. It can also be an excellent way for your parents to see where you are if they're nervous about you taking a trip.
Advantages Of Using Roaming Duck To Plan Your Itinerary
Using Roaming Duck to create your travel itinerary has numerous advantages:
You can add everything you need in one place.
It's intuitive and easy to use.
You can book flights, hotels, and activities in one go.
You can create your itinerary first and then book everything. You'll even be able to see the total trip cost.
You can invite your travel buddies to build the itinerary together.
You can create a to-do list to help you plan everything.
You can switch views (map and list).
The application is free.
Now, it's important to note that Roaming Duck is a new application. So, keep an eye out; it will even improve over time.
Tips For Making An Itinerary
Now that you know how to make an itinerary, we'll share some extra tips with you.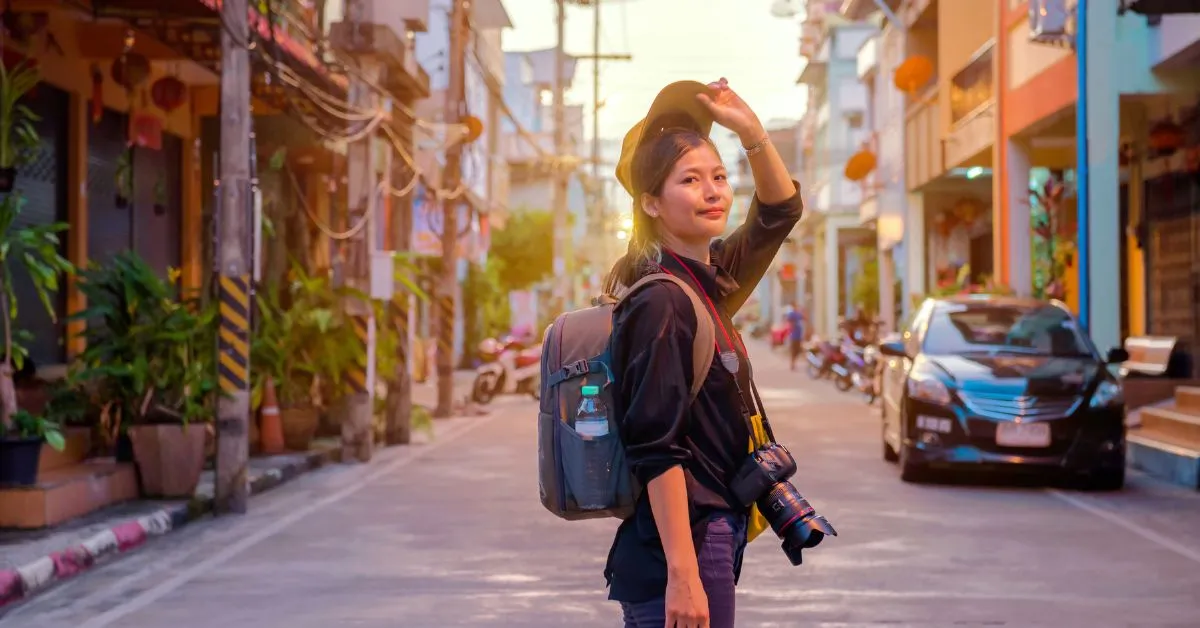 1. Start Making Your Itinerary Early
If you're planning a trip, it's best to start making your itinerary as early as possible. This way, you'll be able to book flights and hotels at the best prices.
These days, flights are more expensive, so booking in advance can save you money!
2. Don't Overbook Yourself
It's easy to overbook yourself when planning a trip. Don't forget, you're on holiday! Make sure that you leave some days for rest and relaxation.
Keeping in mind the time difference and potential jet lag, make sure you give yourself enough time to rest.
Having a strict travel itinerary may cause stress and burnout. Instead, keep it flexible when you can.
You don't want to return from your trip exhausted!
3. Leave Some Space For Spontaneous Adventures
When you plan your itinerary, make sure you leave some room for spontaneous adventures. Unplanned activities can be the best part of a trip.
So, as you plan your itinerary, leave some days for unexpected surprises. You never know what could happen!
For example, if you befriend the locals, they might have great recommendations for you. Or if you stay in a hostel, you might make some friends and decide to explore a new city together.
This is especially true if you're planning a longer trip. So, don't be too strict with your itinerary, and make sure to leave some space in your itinerary for something special. You won't regret it!
4. If Something Is Important To You, Book It In Advance
If there's something that you don't want to miss out on, make sure to book it in advance. This could be a hot air balloon ride or a cooking class.
Booking activities and attractions early can also save you money, but more importantly, you'll have peace of mind knowing that you won't miss out.
Final Thoughts On Creating An Itinerary For Travel
Creating an itinerary for a trip can be a daunting task. However, with the help of Roaming Duck and these tips, you'll have no problem planning your travel itinerary.
If you're feeling overwhelmed, start by writing down the basic information and then add details as you go.
Also, remember that having an itinerary doesn't mean you can't make changes. You can always be spontaneous and adjust your itinerary as you go.
Above all, make sure to have fun! What's the point of traveling if you don't enjoy it?
Happy planning!
Need more help planning a trip? Read one of the following guides: