Searching for the best travel insurance for an upcoming trip? You might have come across Heymondo travel insurance.
But is it really the best option?
In this Heymondo review, we'll look at their policies to help you decide if it's the right travel insurance for you.
We'll provide information about Heymondo, how it works, who it is for, and more.
By the end of our review, you'll know everything you need to know about Heymondo travel insurance.
What Is Heymondo?
Heymondo is a travel insurance provider that focuses on tailor-made insurance so that you can get the best value for your money.
They offer different types of insurance:
Single trip
Annual multi-trip
Long stay
Heymondo has an exclusive app for their customers so that you can get access to the following perks during your trip:
24/7 doctor chat
Online free assistance call
Claims reporting
Account and policy consultation

How Does Heymondo Work
You can get a free quote on Heymondo by picking a plan and entering your country of residence, destination, and departure dates.
You'll find different tiers, including Heymondo Top, Heymondo Premium, and Heymondo Medical.
The information provided by Heymondo is well-detailed, so you can easily compare your options.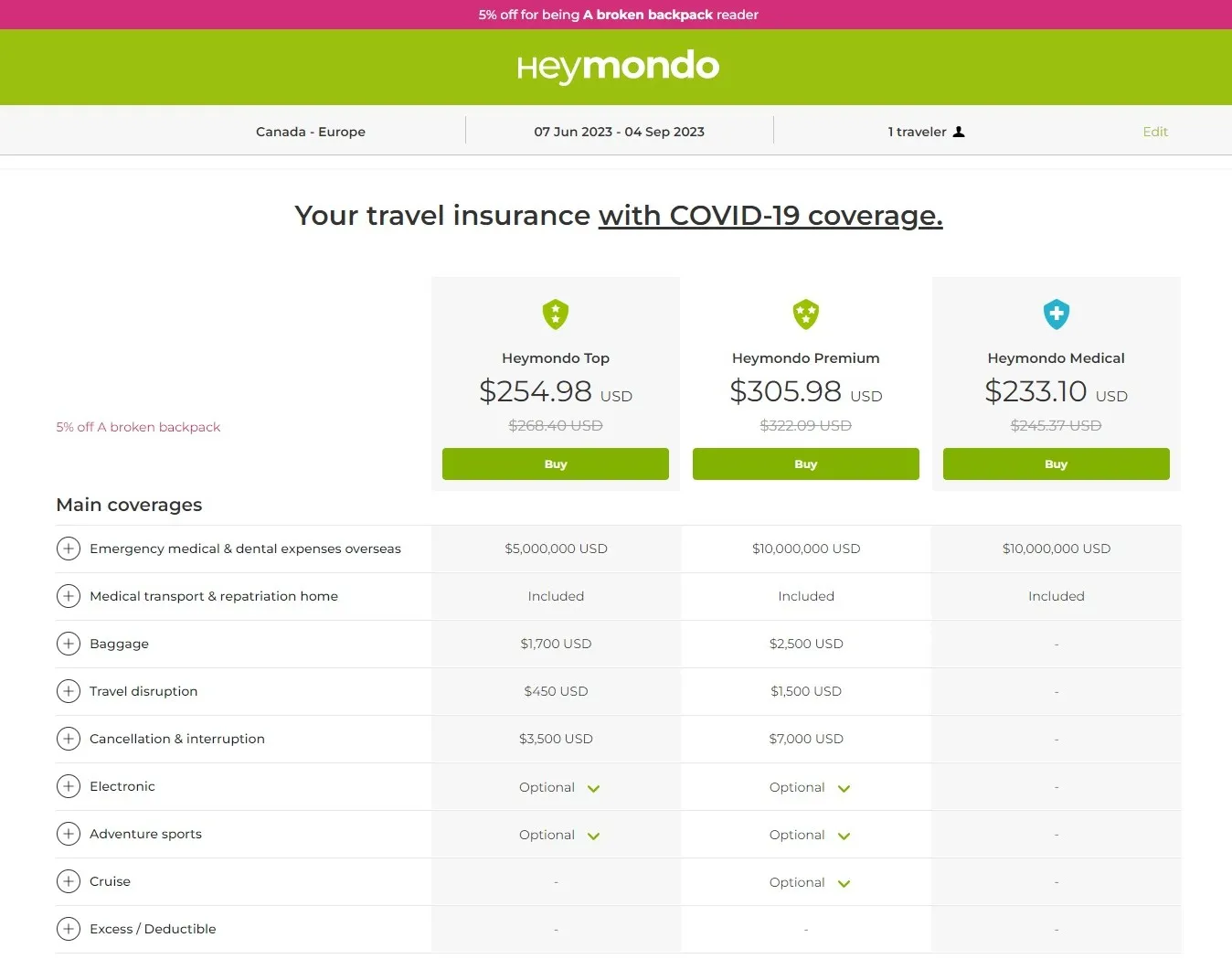 Now, steps will differ depending on the plan chosen. After all, Heymondo is all about tailor-made insurance, so pricing and experience can change depending on where you're from, where you're going and your specific insurance needs.
Heymondo Coverage
In this section, we'll explore what can be covered by Heymondo. It's important to note that the coverage depends on the chosen plan. Some come with limits, so make sure to keep that in mind when purchasing a plan.
Emergency medical and dental expenses overseas
Medical transportation and repatriation home
Baggage loss or damage
Trip cancellation and interruption
Travel disruption
Electronic equipment (optional)
Adventure sport (optional)
Cruise (optional)
If you wish to learn more about the policy, you can read the full details on Heymondo's website. When starting the free quote, you can see all terms and conditions.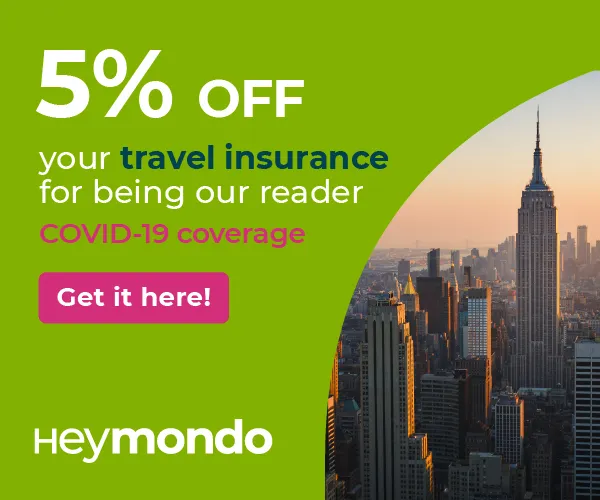 Where Are You Covered?
When it comes to coverage, you get to choose between different options:
Specific country
Europe
World, including Canada and USA
World, excluding Canada and USA
What Is Not Insured?
As with any travel insurance, some things are not covered. Heymondo can only provide coverage for those traveling outside their home country.
Here are the things that Heymondo Insurance doesn't insure:
Pre-existing conditions
Routine checkups
Pregnancy
Some extreme sports
For the complete list of exclusions, refer to the general conditions.
Deductible
Depending on the plan chosen, you may need to pay a deductible in the case of a claim. In some instances, there are no deductibles. In others, it's about $250.
However, it can depend, so keep an eye out for the deductible section when choosing an insurance plan.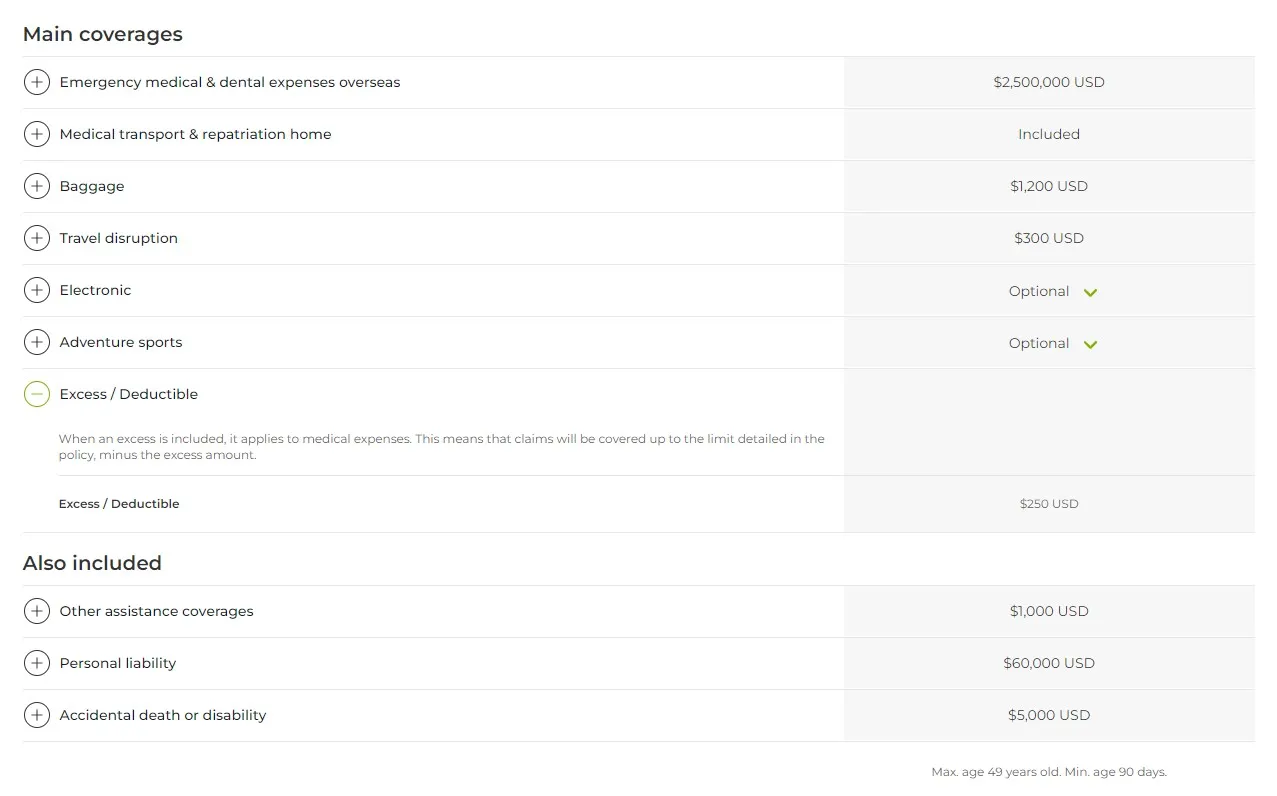 Coverage In Your Home Country
Heymondo doesn't offer coverage in your home country. If you're a digital nomad or a long-term expat who needs coverage at home too, Heymondo won't be a suitable option for you.
However, if you're traveling short-term or for a specific time period, it's a great option to consider.
Waiting Period
If you are already traveling, the coverage will not be valid until 72 hours after purchase.
You should also keep in mind that if you purchase insurance less than 14 days before the end of your trip, there will be no coverage for extended lodging expenses due to COVID, or the return flight you might need to change.
Who Is Heymondo For?
Heymondo is an excellent travel insurance for backpackers, short-term travelers, and long-term travelers who don't need coverage in their home country.
That said, it's important to note that for the time being, Heymondo only covers travelers up to 49 years old.
We'll discuss pricing in the next section, so keep reading to learn more.
Heymondo Plans And Costs
The pricing depends on your trip, regions covered, and chosen options. Now, pricing can change from one trip to another depending on your nationality, and so on.
So, the best way to find the correct pricing is to go to their website and calculate the quote for your specific needs.
The good news is that our readers get 5% off on their plans. By using our links, you'll get the discount automatically.

Pros And Cons
Now, let's take a look at the pros and cons of using Heymondo when traveling.
Pros
You can purchase insurance even if you're already on a trip.
You'll get access to an exclusive app so that you can get the help you need during your trip.
You can get coverage in multiple countries depending on the plan chosen.
You can renew your insurance easily if you travel long-term.
Cons
There is no coverage after 49 years old (for the time being).
You don't get coverage in your home country.
How Does Heymondo Compare To Other Travel Insurance Providers?
In my opinion, Heymondo is a great travel insurance.
A few things set Heymondo apart from other travel insurance providers:
You get to pick a plan that suits your specific needs and budget.
You can buy insurance after departure.
Access to Heymondo assistance app.
How To Buy Heymondo Travel Insurance
Buying Heymondo travel insurance is straightforward. First, head to the website and pick a plan that suits your needs. Then, enter your personal information.
If you opt for a single trip or a long-stay, you'll be able to pay right away. If you opt for a multi-trip, Heymondo will send you a quote.
Final Thoughts On Heymondo Insurance For Travelers
Heymondo is an excellent option for travelers who need travel insurance. The plans are affordable, and tailor-made for your needs.
If you're happy with the coverage offered by Heymondo, head to their website, pick a plan that suits your needs, and get 5% off by using our link.