Planning a trip to the Grand Canyon soon? You might be wondering how many days in the Grand Canyon is enough. The answer, of course, depends on what you want to do and see while you're in the area.
If you're interested in hiking and really exploring the region, we suggest spending at least two or three days in the Grand Canyon.
Ready To Travel? Don't Go Without Travel Insurance.
I recommend SafetyWing Nomad Insurance, an affordable travel insurance offering automatic monthly payments that you can cancel anytime. I've been using it since 2019, and I can assure you it's the perfect solution for nomads like you and me. Learn more by reading our SafetyWing review.
This will give you enough time to visit the significant sites and enjoy some of the other activities the Grand Canyon has to offer, such as the Antelope Canyon, star-gazing, or hiking one of the many trails in the area.
That said, the answer really comes down to the type of trip you're looking for.
If you love being on the go and are happy to see everything at a fast pace, 2 days in the Grand Canyon might be enough for you.
But if you'd like to slow things down, and have a little more time to spend at each attraction, you might want to consider 3 or 4 days in the Grand Canyon instead.
I put this guide together to help you figure out how many days in the Grand Canyon you'll need. You'll find all the things you need to think about when planning the length of your stay, along with a guide to the Grand Canyon's highlights.
I've also suggested how long you should plan to spend at each one so that you can create a realistic itinerary for your visit so that you can enjoy every moment of your trip.
How To Decide How Long To Stay In Grand Canyon
Deciding how long to spend in the Grand Canyon can depend on a few different things, like arrival time, hotel check-in, what you want to see, transportation, and more!
To help you figure out exactly how long you'll need in the Grand Canyon, make a list of the things you want to do in the area, and consider the time of arrival and departure. Then, look at the distance between places to keep it realistic.
At the end of this exercise, you'll know how many days in the Grand Canyon you'll need.
That said, it's important to keep a few things in mind when planning a trip to the Grand Canyon.
Are you planning on staying in one place, or do you want to explore the region and move from one spot to another?
If you need more help deciding, you can have a look at this one-day Grand Canyon itinerary or this two-day Grand Canyon itinerary.
Time Of Arrival, Hotel Check-In Time, And Time Of Departure
One important thing to consider is whether your hotel check-in and departure times allow for a full day's sightseeing.
If you're planning on arriving late, you might consider adding an extra night to your stay. Another important consideration is what you will do with your luggage. Will you have a car to go around? Or will you join a tour?
If you want to get to the Grand Canyon early to make the most of your day, you might need to store your luggage somewhere for a few hours before it is time for you to check into your accommodation.
Most hotels will offer this service, but not all. So don't just assume that there will be somewhere to leave your bags – find out for sure before you go.
Things To Do In Grand Canyon
The Grand Canyon is a popular destination for travelers who enjoy spending time hiking and admiring incredible views.
You must think carefully about which attractions or tours appeal to you the most and plan how to fit them all in – especially if you're thinking about a short stay.
The list of highlights below will help you put your Grand Canyon itinerary together, but be careful not to schedule every single moment of your day.
It's always a good idea to leave a little leeway for things like long queues and transport delays – or simply to spend longer at the places you like the best!
Note that many travelers prefer to book tours and activities in advance to save time, skip the queues and make the most of their holidays.
Pace Of Activities
When thinking about how many days in the Grand Canyon you'll need, ask yourself if you want a relaxing break or one that's a whirlwind of activity. It's pretty simple; the shorter your visit, the busier you will be.
So if you are the type of person who likes to enjoy the sights at a more leisurely pace – or an avid hiker who wants to have enough time to appreciate some of the longer trails on offer – then 4 days in the Grand Canyon area will definitely suit you better than 2.
---
---
Transportation
Think carefully about how you will get around during your visit. While it makes sense to visit trails and viewpoints that are close together, you will still need to factor travel time into your days.
Can you visit different trails on foot? Will you reach your destination by shuttle bus or taxi?
Do your research to find out how you will visit the places you wish to visit and keep the distance and time to reach your destination in mind when you build your itinerary in the Grand Canyon.
Make sure your itinerary is logical and that you visit nearby attractions in one go. That way, you won't waste time traveling between places that are far apart.
For complete independence during your stay – rent a car, either from the airport or from one of the major companies. We advise booking your vehicle ahead of time, particularly if you want a 4 x 4.
You could also rent an RV if you wish to go on a camping adventure.
Another option is to consider taking tours. These can be very convenient as the tour operator will usually arrange to collect you from your hotel.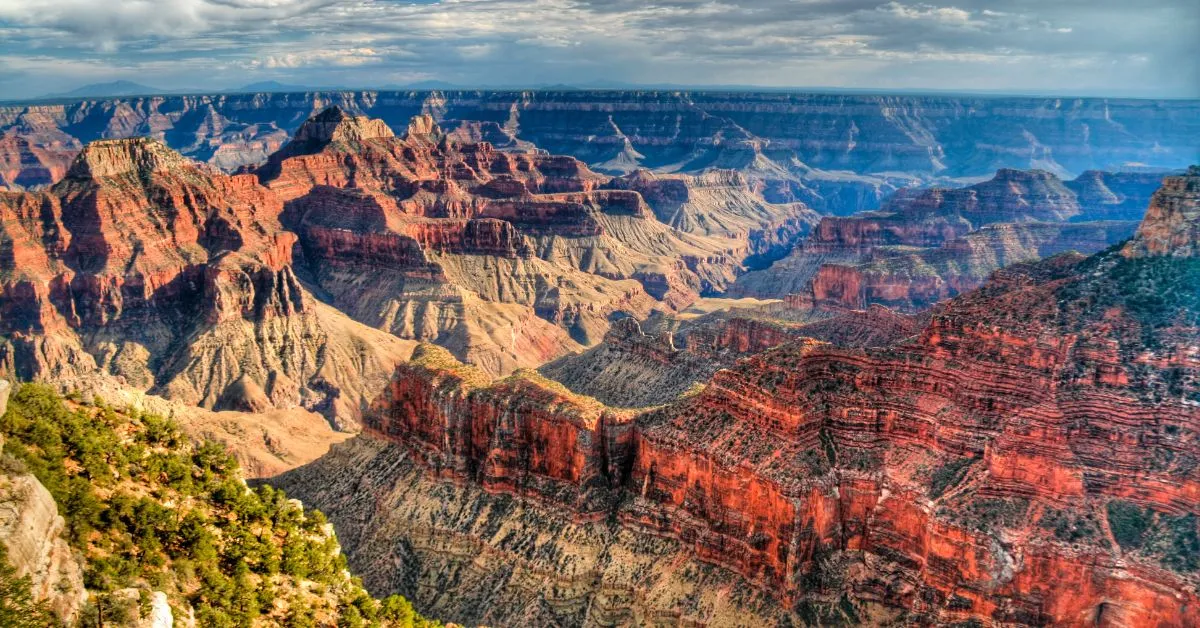 What To Do In The Grand Canyon
Here are some of the best sights, experiences, and things to do in the Grand Canyon, along with our recommendations for how long to set aside for each.
South Rim Trail
A great way to start your trip to the Grand Canyon is the South Rim Trial.
You can start in the Grand Canyon Village, which is the main entry point. You will either be dropped off here by your tour, or you can park your car here.
Then we would recommend you download a South Rim self-guided tour on your phone to make it easier to get around.
From here, you can start your walk on the South Rim Trail. This trail extends from the village area to Hermits Rest. This trail has some good conditions for walkers to enjoy and plenty of places to stop and take in the views.
However, the whole route is 13 miles long, so don't try to hike it all unless you are experienced with hikes of such length in the Grand Canyon.
It is best to do a 2-mile round trip on the South Rim Trail to start off your time in the Grand Canyon. You will pass several viewpoints along the way and can see a lot of what it has to offer without going too far.
At the trailhead, you can hop on a shuttle bus and head back to the visitor center.
Suggested time: 2 hours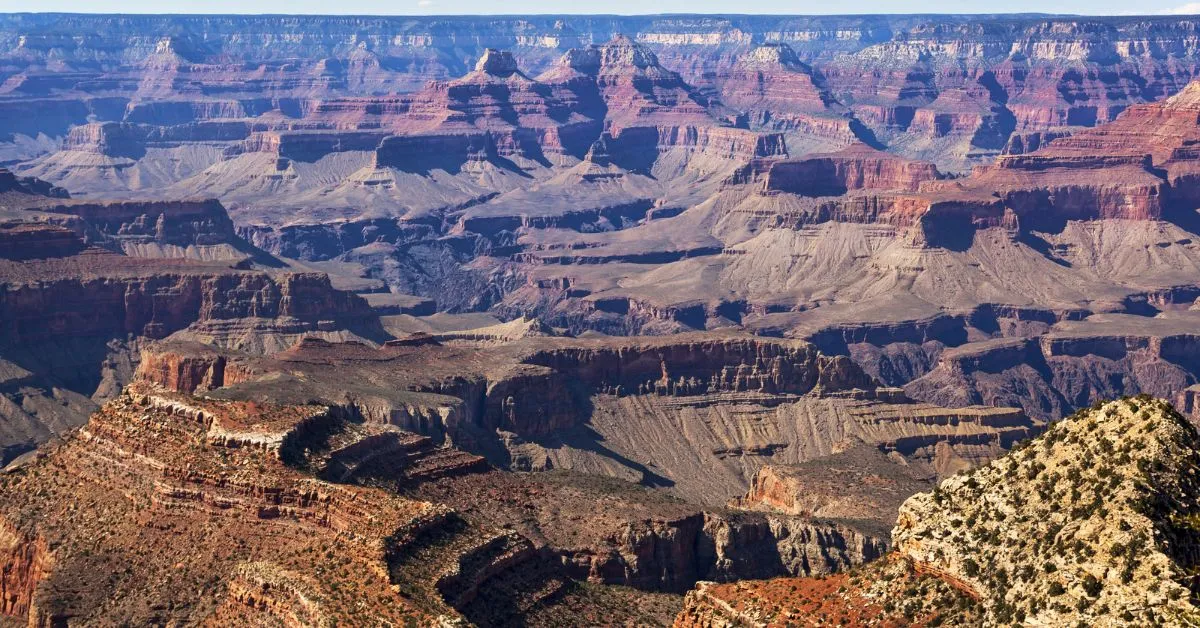 Ooh Ahh Viewpoint
The next activity we recommend you do during your time in the Grand Canyon is to visit the Ooh Ahh Viewpoint. You can get a shuttle bus towards the Kaibab Trail Route to bring you here.
From here, you can start the South Kaibab Trail and hike toward the Colorado River. The South Kaibab is one of the many short hikes available in the Grand Canyon.
This is a safe and easy trail, although it is steep in parts. It is a popular hike, so you will meet many other hikers along this trail too.
Along this trail, you will have endless amounts of incredible views to enjoy. Here, you can go as far as the Ooh Aah viewpoint. This is a 1.8-mile round-trip hike. But it is quite steep along the way.
Please note there are no water stops here so you need to bring your own supplies. There is also very little shade.
Once you have reached the Ooh Ahh viewpoint, you will see that this place really lives up to its name as you stand in awe of the stunning views.
Suggested time: 2 hours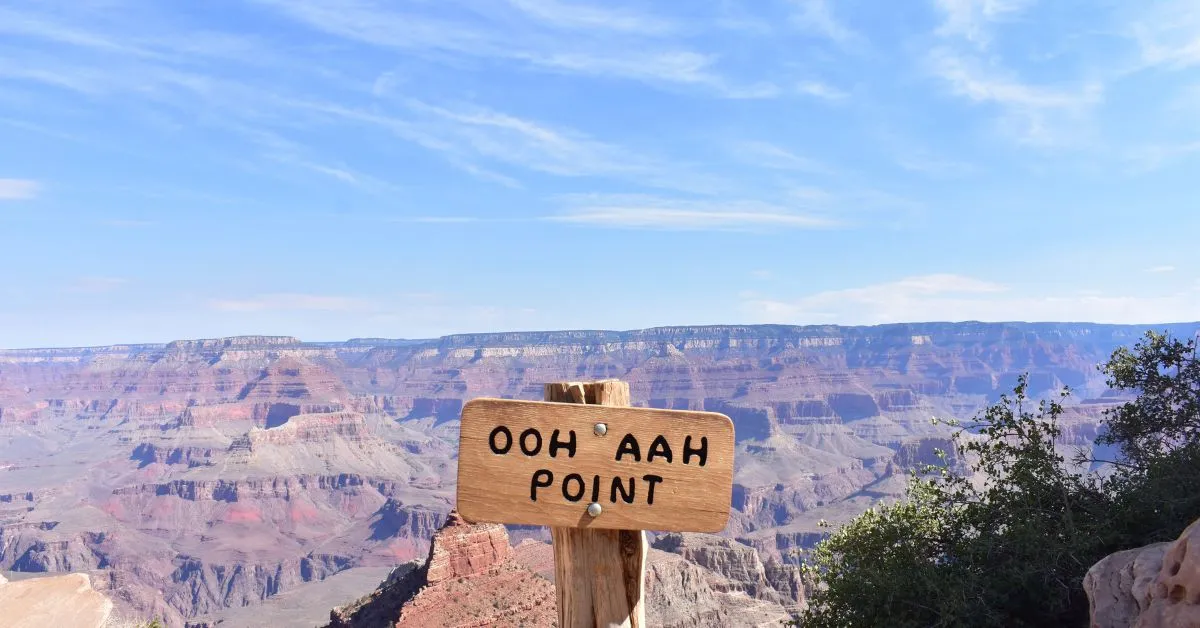 Hermit's Trail
During your time in the Grand Canyon, another activity to enjoy is the Hermit Trail. To get started, you can rent a bike and cycle to Hermit Rest.
Rent bikes from Bright Angel Bicycles and get their shuttle which drops you at the Hopi Lookout Road.
This means you skip the steep hills at the beginning of the trail and you can start off at the mostly flat ride towards the Hermit's rest. This cycle isn't too strenuous and is suitable for families.
There are plenty of spots to stop off along the way, including Lookout Studio, an old stone building that sits on the canyon's cliff. Take your time along Hermit road, and soak in the views.
When you arrive at the trailhead, there is a tuck shop for you to stock up on supplies and some extra water.
On the Hermit Trail, you can hike towards Santa Maria Spring. This is a total of 5 miles, round trip. There is a further hike to Dripping Springs from this trailhead, but that is advised only for experienced hikers.
Hiking boots are recommended for the safest and most comfortable experience.
Suggested time: 4 hours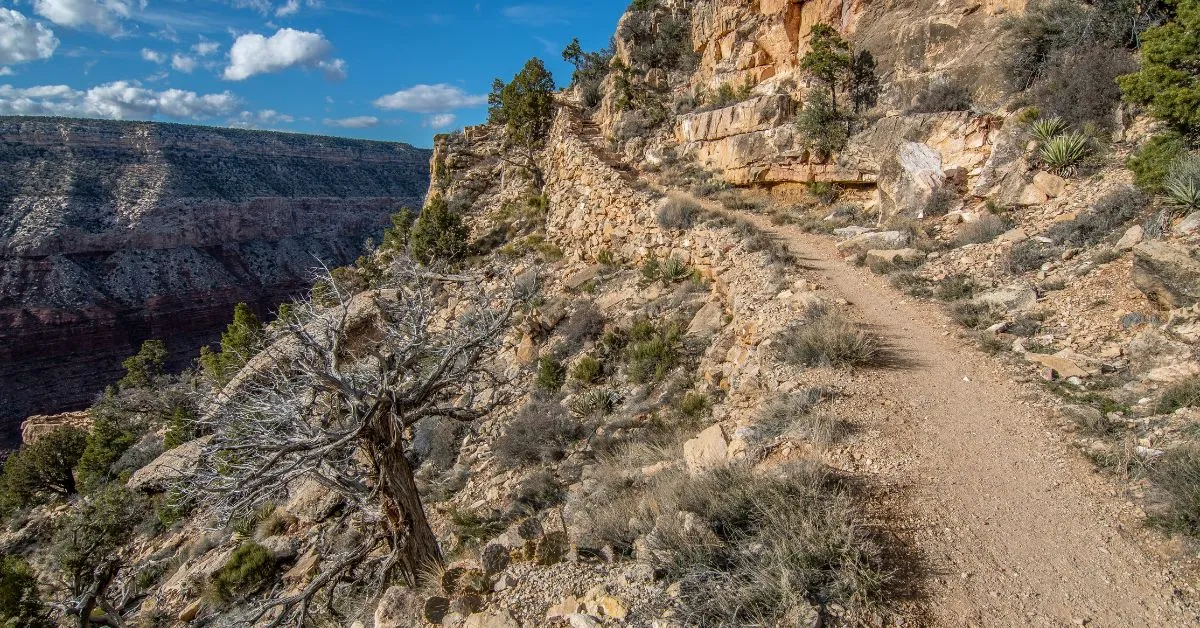 Antelope Canyon
An extremely popular spot within the Grand Canyon and an absolute must-see is the Antelope Canyon.
This is a unique slot canyon made up of two sections, the lower and upper Antelope Canyon and it is only accessible through guided tours.
The Lower Antelope Canyon is the more popular of the two. This canyon is narrow and winding and made up of smooth sandstone in vibrant orange and red colors.
The walls of the canyon display incredible patterns and change throughout the day depending on the light hitting the walls.
This is a very popular spot with photographers as you can create some incredible images here.
Please note that Lower Antelope Canyon requires more physical activity including climbing ladders and squeezing through more narrow paths.
Here you will see the popular "Corkscrew" geological formation which looks like a spiral staircase in the middle of the canyon.
This area can get busy, so please book your tours in advance.
Suggested time: 4 hours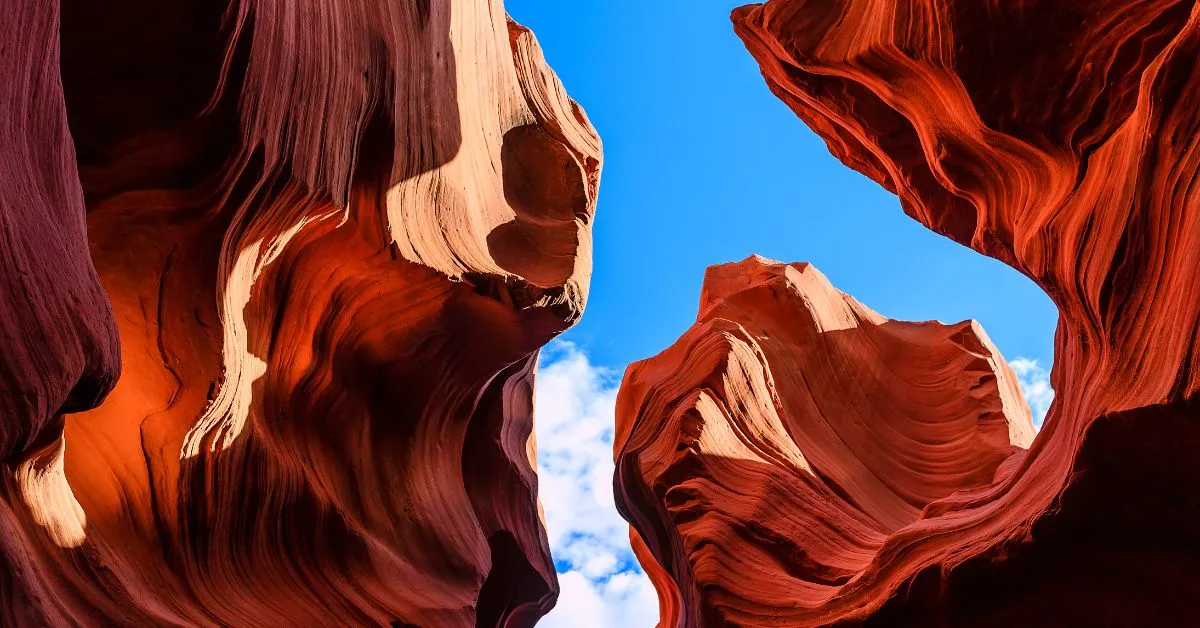 Star Gazing
Something you really can't miss during your time in the Grand Canyon is enjoying some star gazing.
Star gazing in the Grand Canyon is a really popular activity that offers people the chance to see the beauty of the night sky in some of the most remote and therefore darkest locations in the United States.
There is little light pollution and often clear skies in the Grand Canyon, so you can enjoy the best stargazing conditions without interruption.
A great way to enjoy some star gazing is along Desert View Road. This is well known in the Grand Canyon as the best place for seeing the sunset and the best place for seeing the stars.
Be careful, as, during the winter months, this road can be icy and covered in snow.
There are also several designated stargazing locations. Visitors can participate in free ranger-led astronomy programs and telescope viewings at various locations throughout the park.
During the astronomy programs, park rangers guide visitors through a tour of the night sky, pointing out constellations, planets, and other celestial objects.
They also provide information about the cultural significance of the stars and constellations to various Native American tribes.
Suggested time: 1 – 2 hours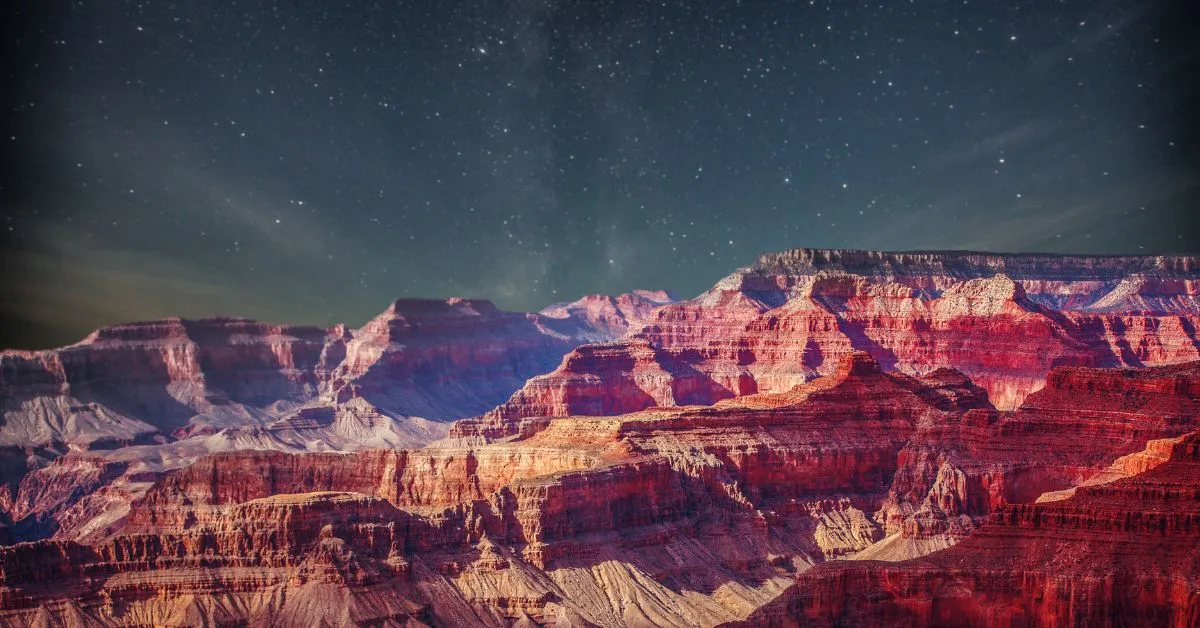 Best Time To Visit The Grand Canyon
The Grand Canyon is a dream destination for hikers and lovers of the outdoors alike. But when is the best time to go to the Grand Canyon to get the most out of your stay?
This iconic place in the United States is always brimming with exciting activities and great hiking conditions, but certain times of the year are more ideal than others. So, let's look at what you can expect from the Grand Canyon weather.
To ensure you get the best out of your trip to the Grand Canyon, consider visiting in Spring or Fall. During these seasons, the weather is dry and the days are not uncomfortably hot.
It also means the crowds are thinner than in the summer months.
No matter when you visit, the Grand Canyon is sure to provide a trip that will be remembered for years to come!
Final Thoughts On Grand Canyon Getaways
We hope this guide helped you figure out how many days in the Grand Canyon is enough.
And remember, the best way to make the most of your time is to pre-book tours and activities so that you can fully enjoy your trip without wasting time!
The Grand Canyon is a great destination to hike and explore incredible nature trails.
We hope you'll have a great time while doing the best things to do in the Grand Canyon.
Not sure when is the best time to visit the Grand Canyon? We recommend you visit the Grand Canyon in either May or September.
We hope this guide has helped you decide and that you enjoy a fun-packed visit to this warm and welcoming national park.
Are you visiting the USA soon? Read one of the following guides: