In 2013, the slogan 'People Make Glasgow' was revealed as the brand name for Scotland's largest city. And when you visit, you'll see why!
Warm and welcoming, this vibrant destination is full of interesting characters, proud of their home, and happy to introduce you to its history and culture.
Ready To Travel? Don't Go Without Travel Insurance.
I recommend SafetyWing Nomad Insurance, an affordable travel insurance offering automatic monthly payments that you can cancel anytime. I've been using it since 2019, and I can assure you it's the perfect solution for nomads like you and me. Learn more by reading our SafetyWing review.
You'll find a bit of everything here, from splendid old architecture and religious buildings to fascinating museums and modern shopping malls.
The food is great, too, taking traditional favorites and adding an international flair, resulting in a culinary scene that's second to none.
If you're planning a weekend in Glasgow then you're probably wondering which are the best things to see and do in the city. So we've created this useful guide to help!
Designed to ensure you see the highlights of Glasgow in 2 days, it contains our suggestions for what to do each morning, afternoon, and evening of your stay.
We've also included a few recommendations for some of our favorite places to eat, along with some great accommodation options for every budget.
Note that Glasgow's public transport system is efficient and it's easy to get around all of the activities mentioned here. You could even do much of it on foot as many of the main highlights are close together.
But for the best experience, we recommend buying tickets for the City Sightseeing Bus.
It's a hop-on-hop-off service that visits most of the attractions we've listed. It also includes an informative and entertaining commentary that will help you learn more about the city.
Be sure to sit on the top deck, as many of Glasgow's architectural gems are above street level!
Day 1
On the first of your two days in Glasgow, you'll see the city's main square, marveling at its imposing cathedral and graveyard, then visiting an art gallery and museum.
Morning
Start your day with a hearty Scottish breakfast at the Cafe Wander, a travel-themed cafe located on George Street, then stroll to George Square.
A hive of activity surrounded by impressive buildings, it is considered to be the heart of Glasgow.
On the eastern side, you can see the beautiful Glasgow City Chambers that date back to 1889. The ornate detailing is exquisite and this is often described as one of the UK's loveliest buildings.
Free guided tours are available between 10.30 a.m. and 2.30 p.m. if you'd like to see inside. They last for around 45 minutes and you don't need to book in advance.
On the southern side of the square stands the general Post office building. Although it dates back to 1878, it was refurbished around 20 years ago and is now one of Glasgow's most attractive modern office buildings!
Check out, too, the Merchant's House to the west of the square. It was built in 1603 to protect the rights and duties of the merchants of Glasgow. You can see a ship on its dome, which represents the city's commercial ties with sea trading.
Next, walk for 15 minutes or take the bus to Glasgow Cathedral, the oldest building in the city.
Consecrated in 1197, it was the point around which Glasgow developed – first as a town, then as a city. It is an iconic part of the skyline and its roof still has the original copper-covered timbers, now with a distinctive green patina.
It's now time to visit The Necropolis immediately adjacent to the cathedral. If visiting graveyards isn't really your thing, you might want to make an exception for this one.
It contains more than 3,500 monuments, some of which are quite beautiful. Its lofty position, meanwhile, gives you breathtaking views of the city, and of the cathedral itself.
Afternoon
Make your way towards the Gallery of Modern Art next, located on Royal Exchange Square. If you take the 15-minute walk via Ingram St, you'll find lots of lovely places to stop for lunch on the way.
Outside the Gallery, you'll see something rather unique – a statue of the Duke of Wellington with a traffic cone on his head!
This has been a famous sight in the city since 1980 when students placed the cone there for a joke. At first, the police took it down, but the students put it right back again.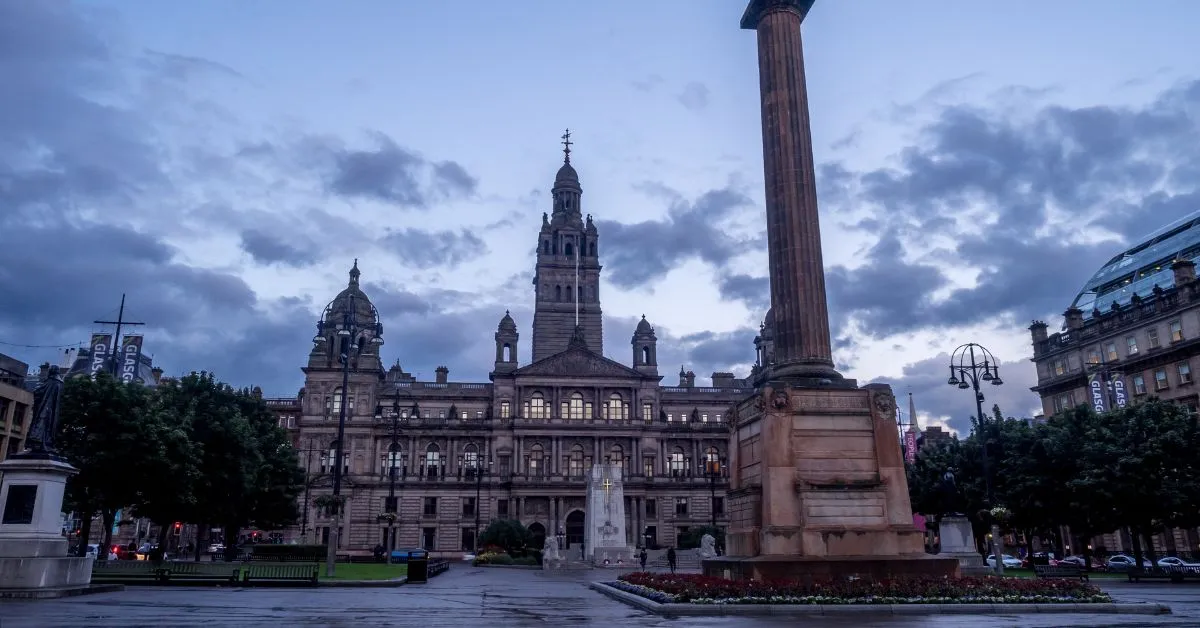 ---
---
The battle continued until the police finally gave up, and the statue has remained a famous landmark ever since.
Originally the 18th-century mansion of a tobacco magnate, the gallery itself is a beautiful building, with columns and stained glass windows. It displays a collection of modern artworks from around the world and all exhibitions are free to enter.
Your final stop of the day is Glasgow's fantastic Science Centre.
It has something for the whole family, including a Planetarium and more than 300 interactive exhibits. Even if you don't consider yourself a fan of science, you can't help but be impressed by the fascinating activities on offer!
Evening
As the day draws to a close, head to the Cafe Gandolfi on Albion Street for dinner.
It was opened in 1979 and was one of the very first restaurants in Merchant City – an area now packed with bars and eateries!
You can enjoy Scottish cuisine here, alongside dishes from England and the rest of Europe. Be sure to book ahead, though, as this is a popular restaurant with the locals!
Day 2
On the second of your 2 days in Glasgow, you'll be visiting two amazing – but very different – museums before enjoying the beauty of the city's Botanic Gardens.
Morning
Your adventures today begin at the award-winning Riverside Museum, located right on the banks of the River Clyde.
This museum is devoted to the history of transport in Glasgow, which may sound a little boring. But as soon as you walk through its doors, you'll realize it's anything but!
There are more than 3,000 exhibits to see here, from an exquisitely decorated authentic rickshaw to beautiful old locomotives. You can even see how babies used to travel in the perambulator display!
This is an interactive museum, so you don't have to be content with looking at things through glass cases.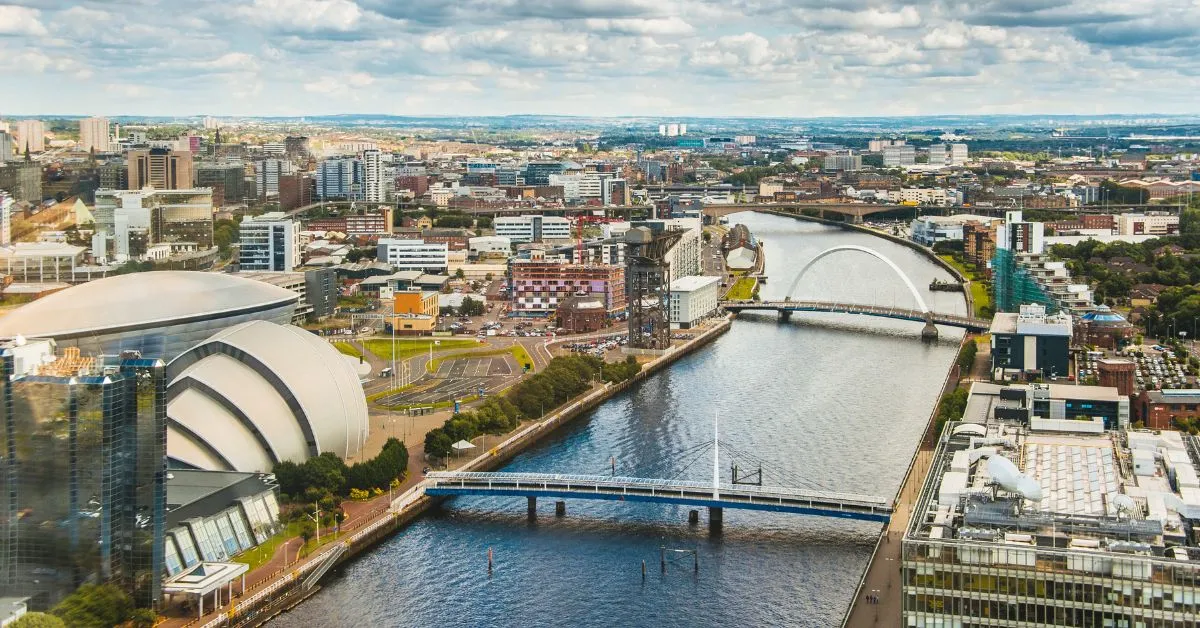 Instead, you can climb aboard many of the restored vehicles and walk down a beautifully recreated old street, complete with cobblestones and lined with recreated shops and pubs. You can even step inside them to see how they would have looked in the past.
Anchored outside is Glasgow's restored Victorian Tall Ship.
Like the museum, it is free to enter and fascinating to explore. The only floating Clyde-built ship in the country, it has several floors where you can try out different activities and even view the quarters in which the crew would once have slept.
Afternoon
After lunch in the ship's cafe, it's time to head to your next stop – the Kelvingrove Museum and Art Gallery
It is located right beside Kelvingrove Park, one of the most beautiful green spaces in the city, and is made from Glaswegian red sandstone.
Make sure you stop in the park to take some photos of the building before you enter – it is very striking!
Inside you'll find 22 galleries containing more than 8,000 exhibits. There are displays here to appeal to all members of the family, from one of the best art collections in Europe to exhibits from the natural world.
Some of its main attractions include Sir Roger the Asian elephant – a stuffed elephant who has stood proudly in the museum for over 120 years – and a full-size Spitfire plane suspended from the ceiling of the west court.
Also popular is the very cool – but creepy – display of floating heads by Sophie Cavos.
The Kelvingrove Museum and Art Gallery is free to enter and open daily.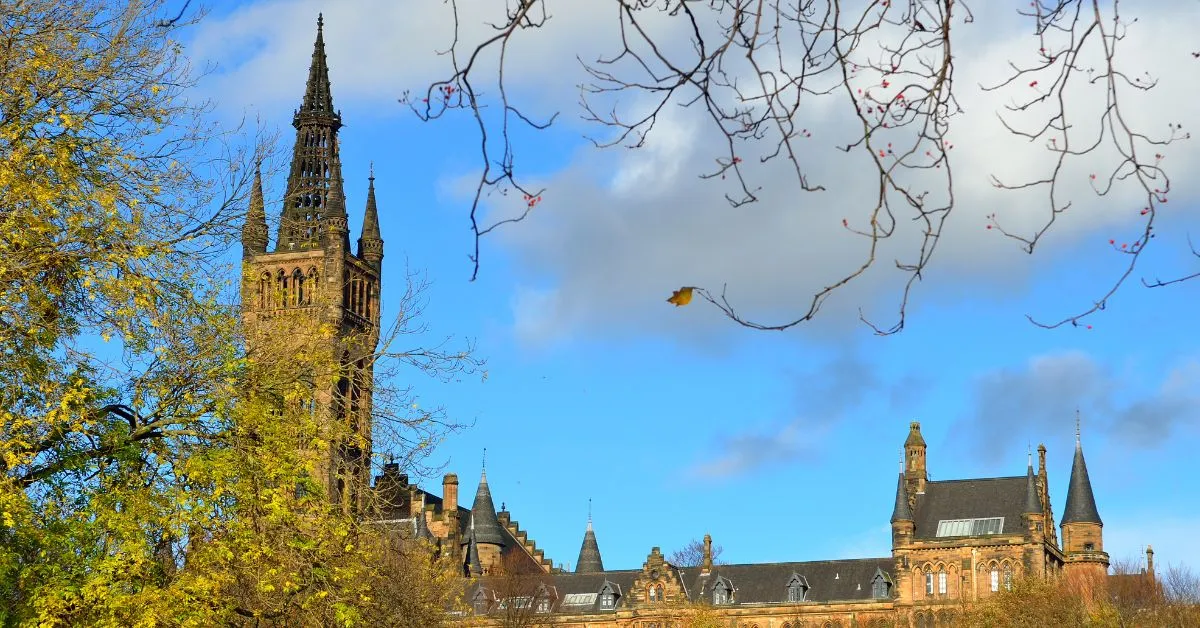 If you feel like taking some time to relax after all that sightseeing, then head to Glasgow's Botanic Gardens, located by the River Kelvin.
As soon as you set foot on the grounds, it's hard to imagine that you are close to a big city! The atmosphere is tranquil and there is so much to see, from the wide range of flora to the gorgeous marble sculptures.
There are several trails to enjoy that make it easier to take everything in, including the Heritage Trail and the Minibeasts, Birds, and Trees of the Botanics Trail for families with young children.
Don't miss the famous greenhouses, which house Scotland's collection of tree ferns and lots of plants from tropical rainforests!
Evening
Glasgow has a strong Sikh community and nowhere celebrates that better than Mister Singh's Indian restaurant, a unique and unforgettable venue.
Staff members wear traditional Sikh turbans along with kilts made from a special tartan registered by Mr. Singh.
It's a great place to spend the end of your 2 days in the city, tucking into a fusion of Scottish and Indian cuisine (think Haggis Pakora!).
Are 2 Days In Glasgow Enough?
Two days in Glasgow is the perfect amount of time to see all of the city's main attractions and get a taste of its culture.
Just remember that this itinerary requires two FULL days.
If you arrive in Glasgow late in the day or have to depart early, then we'd recommend adding an extra night to your stay so you don't miss out on the most popular sights.
Where To Stay In Glasgow
Here are some of our favorite places to stay for a weekend in Glasgow.
Best Budget Accommodation
Euro Hostel Glasgow is a great place to stay for an affordable break, located right in the city center and just a 5-minute walk from Glasgow Central Railway Station.
It offers both dormitory accommodation and private rooms, along with a TV lounge, games area, and a bar. A buffet breakfast is available for an additional cost.
Best Mid-Range Accommodation
Motel One enjoys a great location next to Central Train Station, just a 9-minute walk from George Square. It features a beautiful entrance, bar, and lounge, plus very stylish and comfortable rooms.
A continental breakfast is available for a fee and fresh coffee, cocktails, and toasties are available throughout the day in the lounge.
Best Luxury Accommodation
To make your 2 days in Glasgow extra special, book a room at the fabulous Kimpton – Blythswood Square Hotel. Dating back to 1823, it is located close to Sauchiehall Street and was once the home of the Royal Scottish Automobile Club.
Each bedroom has a marble bathroom, and guest facilities include a spa, restaurant, and bar.
Final Thoughts On Two Days In Glasgow
If you have been wondering what to do in Glasgow in 2 days, we hope this guide has made it a lot easier to plan your visit.
Boasting plenty of world-class attractions – many of which are completely free to enter – it's the perfect city in which to enjoy an unforgettable stay.
Visiting the UK soon? Read one of the following guides: