Recent years have seen Oslo's popularity grow enormously, and the city is now considered one of Scandinavia's best places to visit alongside Stockholm and Copenhagen.
There is simply so much to see and do in Norway's capital that every traveler will find something to enjoy.
Ready To Travel? Don't Go Without Travel Insurance.
I recommend SafetyWing Nomad Insurance, an affordable travel insurance offering automatic monthly payments that you can cancel anytime. I've been using it since 2019, and I can assure you it's the perfect solution for nomads like you and me. Learn more by reading our SafetyWing review.
The natural landscape is stunning, offering awesome mountain and sea views, while the many cultural attractions are second to none.
The harbor and waterfront areas are bustling with life and the culinary scene is amazing, with world-class restaurants serving the best seafood you'll find anywhere.
What's more, it is a compact city and simple to get around, meaning that it's easy to see the main highlights of Oslo in 2 days.
To make planning your visit as straightforward as possible, we've put together this handy guide and suggested what to do each morning, afternoon, and evening of your stay.
Along with recommendations for some great places to sample the local food, we've also included a few ideas for accommodation in the city, with suggestions for every budget.
When you're spending a weekend in Oslo, something you really must buy is the Oslo pass.
You can buy a 24 or 48-hour version and it gives you unlimited public transportation within the city, along with free access to many of the museums.
Oslo is not a cheap place to visit, so this is a great way to keep your expenses down!
Day 1
On the first of your two days in Oslo, you'll be visiting the many attractions on the Bygdøy Peninsula, before exploring the imposing Royal Palace and the fascinating Akershus Fortress.
Morning
No matter what time of year you visit, the Bygdøy Peninsula is a great place to kick off your weekend in Oslo. It's easy to reach by ferry in the warmer months and by bus from the city center in the winter.
The Peninsula boasts several lovely beaches where you can soak up the rays in summer and has many scenic hiking trails to explore.
Or you can simply opt to visit some of the cultural attractions – and there are plenty to choose from!
One of the highlights is the Fram Museum which is devoted to Arctic and Antarctic exploration. Here you can walk the decks of the wooden polar ship FRAM and get a feel for how the lives of explorers would have been in days gone by.
It's a very effective exhibit, with a combination of smells, sounds, lights, and vibrations bringing the entire experience to life!
With plenty of other things to see and activities to enjoy, this is a great museum for the whole family.
Next door is the Kon-Tiki Museum, where you can learn about Thor Heyerdahl's famous expedition across the Pacific on a balsawood raft.
Another museum to see is the outdoor Norwegian Museum of Cultural History.
It provides a fascinating glimpse into Norway's past and contains 160 reconstructed buildings dating from the Middle Ages up to the 1950s.
You've probably heard about the Peninsula's chief attraction – the Viking Ship Museum. Sadly, this is currently closed for refurbishment and is not expected to reopen until 2025/26.
Afternoon
Take the bus or ferry back to the city for lunch at Kaffistova.
Located on the ground floor of the Hotell Bondeheimen, it has a modern interior and is famous for its homemade Norwegian specialties, which it serves in huge portions at low prices!
We strongly recommend the delicious meatballs, which are served with boiled potatoes and mushy peas, topped with gravy and lingonberry sauce. Delicious and satisfying, it's a meal you won't forget!
From the restaurant, it's a 10-minute walk to your next stop – The Royal Palace. Try to get there before 1.30 pm, as then you'll be in time to watch the changing of the guard ceremony, which lasts for around 40 minutes.
The beautiful 19th-century Neoclassical Palace is home to HM King Harald V and HM Queen Sonja.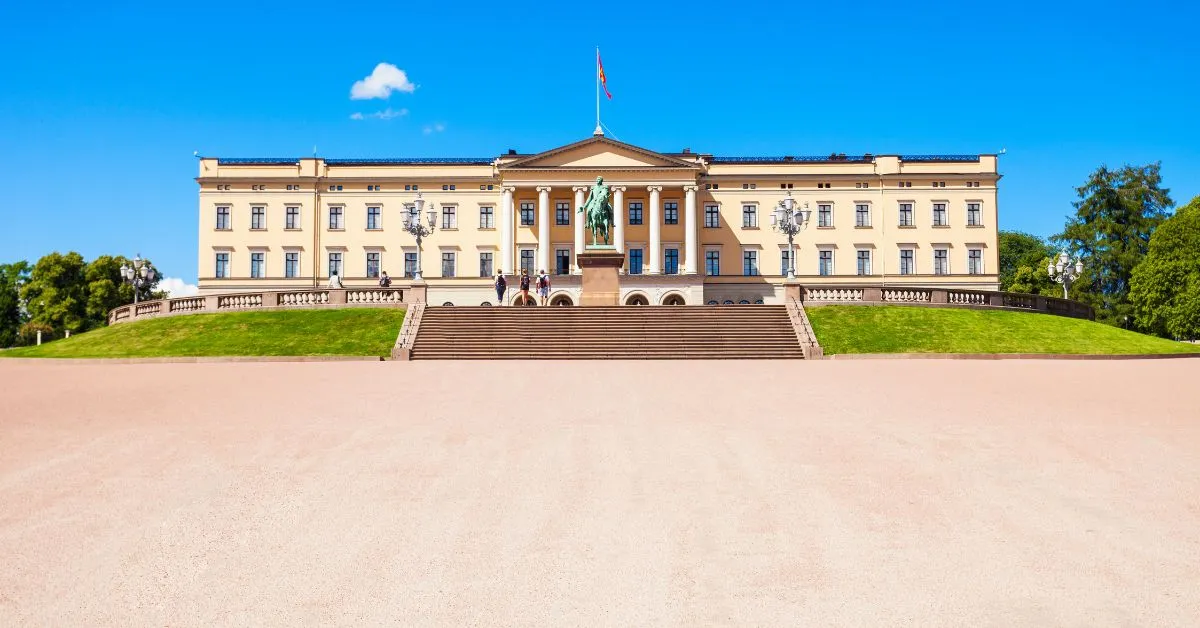 ---
---
At certain times of the day during the summer months, you can join a guided tour to see its main rooms. But you can walk around its grounds at any time. These surround the building on all sides and are quite beautiful, with ponds, ancient trees, and statues.
Your final stop of the afternoon is The Akershus Fortress, a 20-minute walk from the Palace.
Located on a hill at the head of the Oslo Fjord, the 700-year-old fortress (also known as Akershus Castle) was originally intended to be used as a royal residence. Nevertheless, it was used for defense purposes over the years and – at one point – was a prison!
It is an amazing building to see, especially towards the end of the day when the sun starts to set and gives it a golden hue.
You can buy tickets to view the interior, where you can see the Royal Mausoleum and ancient banqueting halls. Who knows, you might even see a ghost – the fortress is said to be one of the most haunted places in the country.
Alternatively, just take the opportunity to enjoy looking over the city from one of the many viewpoints.
Evening
For dinner on the first night of your weekend in Oslo, we recommend Lorry Restaurant.
This is the oldest restaurant in the city, established in the 1870s, and it has been run by the same family for more than 60 years.
Decorated with an intriguing mixture of antiques and stuffed animals, it serves a range of Norwegian and European dishes, along with a wide variety of beers!
Be sure to try the national dish of fårikål, consisting of mutton served with potatoes and cabbage. You can even sample reindeer!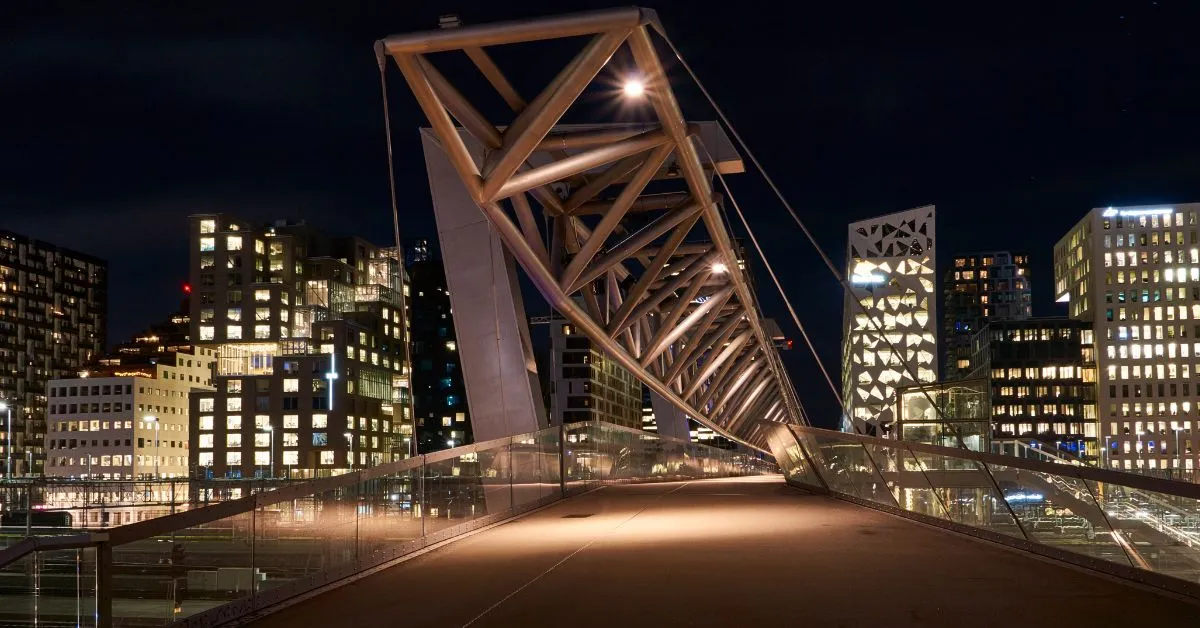 Day 2
On the second of your 2 days in Oslo, you'll be visiting some of its most impressive buildings and cruising its fjords before admiring the sculptures at Vigeland Park.
Morning
Start the day at Oslo City Hall, the seat of the city council. Inaugurated in 1950 to mark Oslo's 900th anniversary, it is quite drab and plain to look at from the outside.
But it's a different story when you walk through the doors and the murals and artwork in its corridors are exceptional.
You can also see unique mythological symbols and figures in the courtyard, along with an astronomical clock and a beautiful swan fountain.
Something interesting to remember is that City Hall is where the Nobel Peace Prize is handed out on December 10th every year.
The building is open to visitors every day and – best of all – entry is free!
Next, take a 10-minute walk to Oslo Cathedral, the principal church of the diocese of Oslo.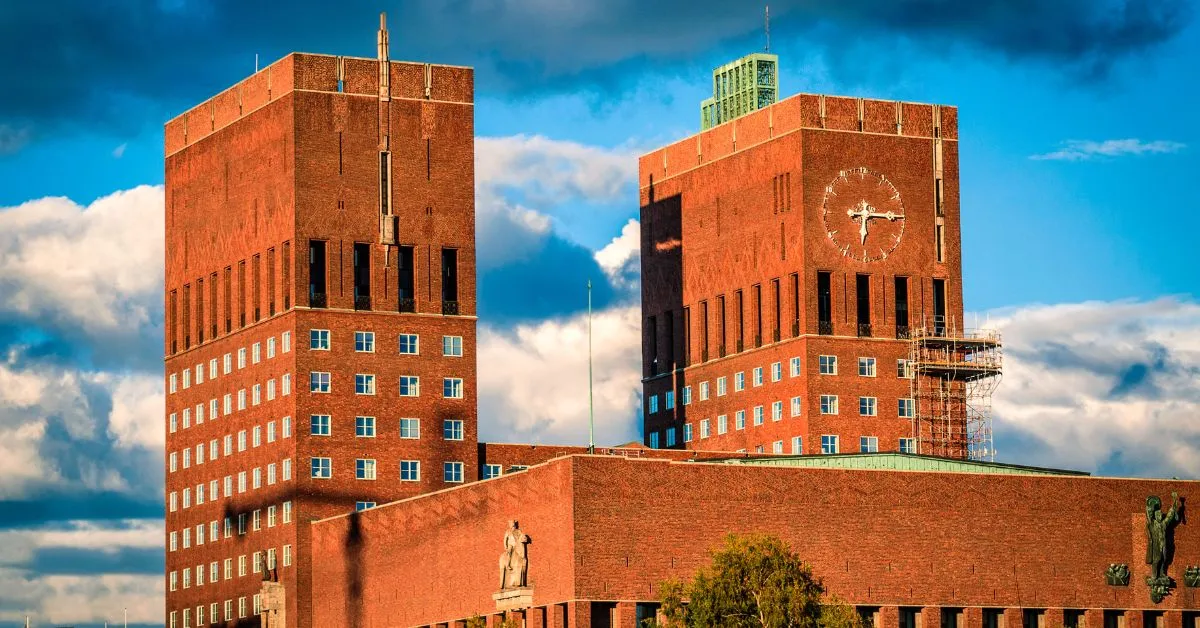 Dating back to the late 1600s, it has been refurbished many times over the years and now features a distinctive bronze spire and stunning stained glass windows.
The woodwork on the altarpiece is intricate and beautiful, and the ceiling is painted with scenes from the Old and New Testaments. These were added in the 20th century, as the original ceilings were destroyed.
The cathedral is free to enter.
To complete your morning, stroll along Karl Johans Gate, the busiest and most popular thoroughfare in the country.
Just over 1 km long, it is lined with Neoclassical buildings and home to the scenic Studenterlunden Park. There are some great souvenir shops here too!
Afternoon
After lunch, it's time to get a closer look at Oslo's beautiful fjords. The best way to do that is by booking a sightseeing cruise, which takes around 2 hours.
Providing a unique perspective on the city, this tour allows you to see all the surrounding scenic islands and admire the beauty of the Norwegian coastline. It also gives you a great view of the hills surrounding the city.
Back on dry land, it's time for your final stop of the afternoon – the Vigeland Sculpture Park located in Frogner Park.
It is quite unlike anywhere you've ever visited before, filled with more than 200 interesting – and often bizarre – sculptures by Gustav Vigeland.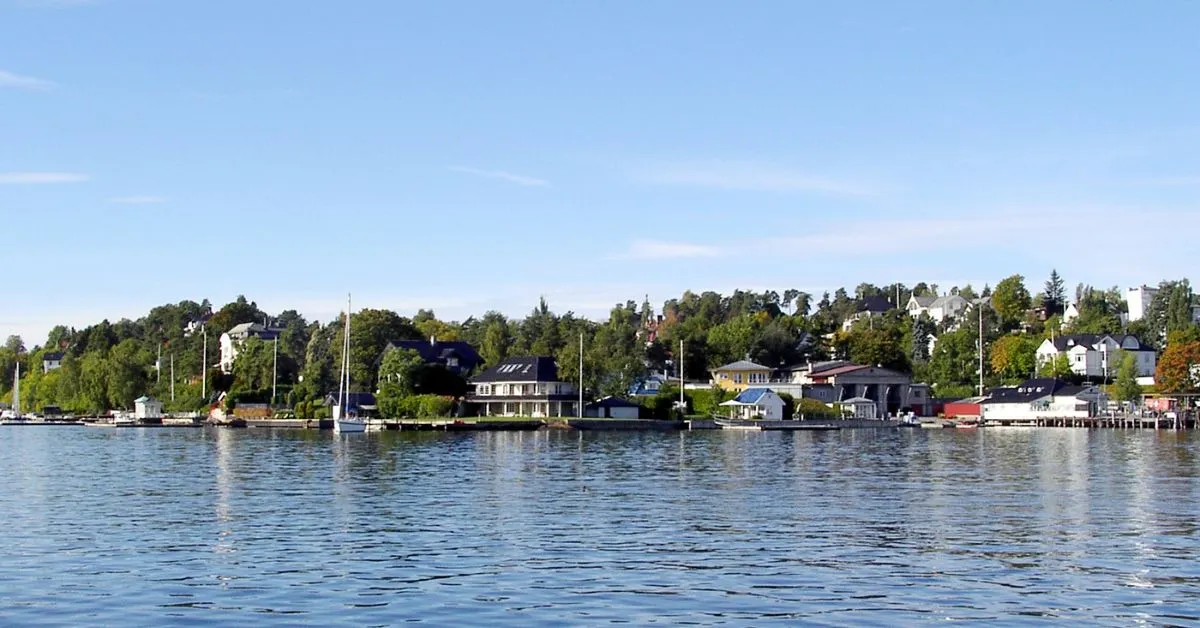 He also designed the park itself and its architecture, creating something so beautiful that it now receives more than one million visitors every year.
Be sure to check out the Monolith, the most famous sculpture in the park made up of 14.2 meters of intertwined human bodies. Strange – but unmissable!
Evening
After spending 2 days in Oslo you've probably noticed lots of amazing Pakistani and Indian restaurants. That's because the city has a large Pakistani community.
One of the very best restaurants to visit for dinner is Mehfel, a sophisticated eatery serving the finest Indian cuisine. We highly recommend the lamb dishes, which are divine!
After dinner, stroll to the nearby Norwegian National Opera House and walk up its white slanted rooftop. The views of the city lights are amazing and the rooftop is far less crowded than during the day.
Are 2 Days In Oslo Enough?
You may be wondering, how many days in Oslo is enough? Fortunately, it's very easy to see the best of Oslo in 2 days, making it a great destination for a weekend getaway.
Just be sure to allow two full days for this itinerary. You'll need an extra night if you arrive late on your first day or have an early departure time on your final day.
Where To Stay In Oslo
Here are some of our favorite places to stay for a weekend in Oslo.
Best Budget Accommodation
The budget-friendly Anker hostel is located close to Oslo Central Station and the main shopping street, Karl Johan.
It offers a mixture of studios and dormitory rooms and has both a snack shop and a café bar with a TV.
Best Mid-Range Accommodation
Saga Hotel Oslo is a boutique hotel located just 550 yards from the Royal Palace and 15 minutes from Vigeland Sculpture Park.
The rooms feature Scandinavian decor and there is a cozy lounge, plus an on-site restaurant serving traditional Nordic cuisine.
Best Luxury Accommodation
If only the best will do, treat yourself to a stay at the fabulous Hotel Bristol, located 950 yards from Oslo Central Station and a 2-minute walk from the main street of Karl Johans gate.
Facilities include a gym, a sauna, and an on-site restaurant that serves Norwegian food in an English pub-like setting! You can also listen to live piano music in the Library Bar.
Final Thoughts On Two Days In Oslo
If you have been wondering what to do in Oslo in 2 days, we hope this guide has helped you plan your visit.
Offering a great mixture of fine food and exciting attractions, Norway's capital is a welcoming destination and we hope you enjoy every moment of your stay.
Visiting Europe soon? Read one of the following guides: